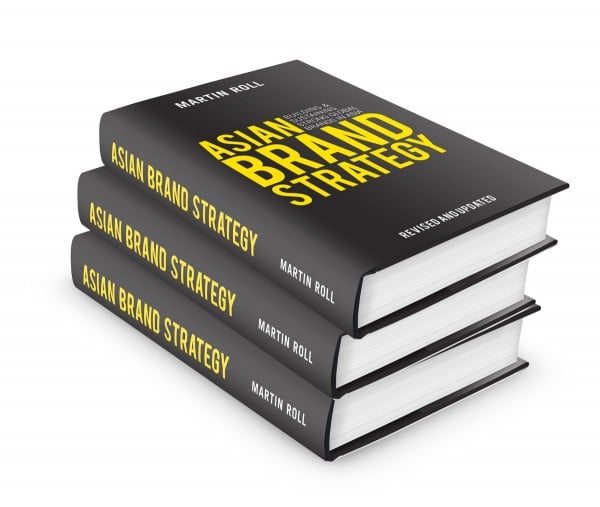 A thoroughly updated second edition of the global bestselling book Asian Brand Strategy, Martin Roll provides a comprehensive framework for understanding Asian branding strategies and Asian brands, based on new research and supported throughout by a wealth of new case studies. Martin Roll offers insights, knowledge and perspectives on Asian brands and branding as a strategic tool and provides a comprehensive framework for understanding Asian branding strategies and Asian brands, including success stories and challenges for future growth and strengths.
Towards 2020, a rapid changing landscape will emerge in Asia where the opportunities for Asian companies to benefit from international branding efforts will be larger than ever before. The growing emphasis on shareholder value and brand strategy to drive value will move up the boardroom agenda and become one of the most prominent drivers of value in Asia Pacific.
Asian Brand Strategy offers insights, knowledge and perspectives on Asian brands and branding as a strategic tool and provides a comprehensive framework for understanding Asian branding strategies and Asian brands, including success stories and challenges for future growth and strengths. The book includes theoretical frameworks and models and up-to-date case studies on Asian brands, and it a must-read for Asian and Western business leaders as well as anyone interested in the most exciting region of the world.
The book presents the Asian Brand Leadership model illustrating the paradigm shift Asian brands need to undertake to unleash their potential.
5 changes needed in the Asian boardroom
First, mindsets and practices need to change in the Asian boardroom. The book invites a complete shift in the way Asian boardrooms think of branding: from a tactical view to a long-term, strategic perspective, from fragmented marketing activities to totally aligned branding activities, from a vision of branding as the sole responsibility of marketing managers to branding as the most essential function of the firm led by the boardroom.
Second, this new perspective must be steeped into a more acute perspective on the consumer behavior patterns. Asia is not a homogenous entity. Even more importantly, Asian countries are more and more traversed by cultural flows permeating the region: cinema, music and fashion trends that are present extend beyond national borders to capture the imagination of millions. Branding and brands do not operate in vacuum, but are closely linked to developments in society, to people and to cultures.
Third, managers wanting to succeed in Asia need to abandon the idea of an oriental Asia of the past. Asian consumers are all vying for an Asian type of modernity that has nothing to do with colonial imagery.
Fourth, to create iconic brands, Asian managers will have to become trendsetters. The perspective developed in this book is that, in order to be successful, Asian brands need to capture the spirit of the region, but they also need to lead the way by creating that spirit.
Finally, this shift can be achieved only if everybody in the company is convinced by the power of branding and if all strategies and actions are aligned around the brand. This must be led by the Asian boardroom.
Endorsements
"Building successful global brands is – and will be – critical for the rapidly increasing number of Asian champions on the global stage. Martin Roll provides a compelling and practical roadmap on how to do this based on his extensive experience advising Asian corporations."
Dominic Barton, Global Managing Director, McKinsey & Company
"Building brands have become a C-suite topic in Asia as Asian firms seek to globalize. Martin Roll provides a compelling framework, clear guidelines and multiple insights into successfully brand marketing. A must read for anyone interested in the rise of Asia from the leading expert."
David Aaker, Vice-Chairman of Prophet, author "Aaker on Branding"
"Martin Roll's Asian Brand Strategy provides superb motivation and substance into Asian brands and branding. It offers invaluable inspiration and guidance into one of the hottest areas of marketing."
Kevin Lane Keller, Professor of Marketing, Tuck School of Business
"Branding is the hottest topic in marketing!  Martin Roll describes all the key opportunities and challenges that Asian firms need to further challenge their Western competitors. As the leading expert on Asian brands, Martin Roll brings a unique knowledge and experience that make his book a must read for all global marketers!"
Dominique Turpin, President of IMD Business School
"An insightful look into branding as a strategic tool for Asian companies – Asian Brand Strategy by Martin Roll is a brilliant, incisive read. A treasure of ideas and case studies, this compelling new book discusses the challenges Asian corporations face to stay relevant in today's dynamic, global market."
N. R. Narayana Murthy, Founder, Infosys Technologies Ltd.
"The 21st century will be the Asian century. Asian corporations will naturally attain greater global prominence. However, they can achieve global recognition much faster if they pay greater attention to their brand strategies. Martin Roll's book could not be more relevant and timely. Asians should heed his advice."
Kishore Mahbubani, Dean, LKY School of Public Policy (NUS) and author of The New Asian Hemisphere"
"Asian Brand Strategy is an important handbook for Asian executives aspiring to build strong brands. It provides a solid foundation for future success in the global market place."
John A. Quelch, Charles Edward Wilson Professor of Business Administration, Harvard Business School
"I would strongly recommend this book as compulsory reading for anyone who wants to understand the power of branding and how to implement a practical, no-gimmicks brand strategy."
Ho Kwon Ping, Executive Chairman, Banyan Tree Group
Asian Brand Strategy is a brilliant publication with valuable in depth analysis of the current Asian Branding Platforms that are shaping the retail and consumer perceptions of products and services in a highly dynamic and competitive Asia. The market place today has many established and emerging brands and the key to a successful brand with sustainable growth and customer loyalty is a total approach and a detailed 360 degree strategy. Martin Roll has done an excellent job in giving readers great insights and has demonstrated clearly the challenges ahead for all stakeholders of Asian Brands to be accomplished performers in the global stage! Highly Recommended!
Sudhitham Chirathivat, Chairman of Advisory Board, Central Group of Companies
"Martin Roll provides clear, insightful strategies for Asian firms seeking to globalize their brands, and for global brands aspiring to succeed in Asia. A brilliant guideline!"
Michael Aagaard Andersen, Senior Advisor and Vice President, ONLY (Bestseller, China)
If interested in exploring further about this opportunity to engage Martin Roll anywhere in the world, please contact Martin Roll Company through the Contact Section.