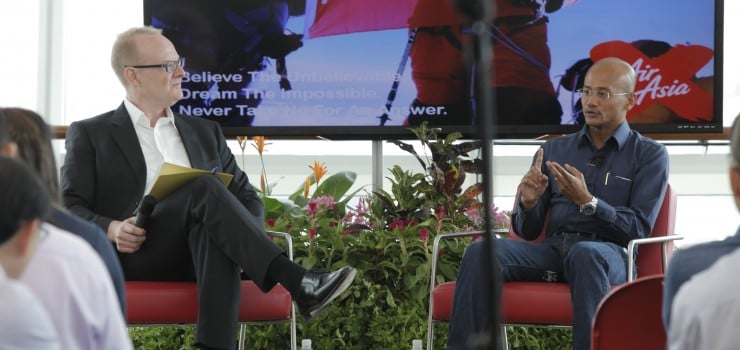 Martin Roll was moderating Q&A and plenary session with AirAsia X CEO Azran Osman Rani at the 50th Anniversary Learning & Transformation Series hosted by Singapore Institute of Management at the Singapore National Library on 28 Feb 2014.
Azran Osman Rani spoke about the launch in November 2007 of low-cost long-haul airline AirAsia X and how the airline has grown very fast in a fiercely competitive market.
AirAsia X is an associate of AirAsia Berhad, the largest low-cost airline in Asia. AirAsia began operations in 1996, and in 2001 the heavily-indebted airline was acquired by Malaysian-British entrepreneur Tony Fernandes. He turned the airline around very successfully, and positioned the new low-costs airline brand with the tagline "Now everyone can fly".
The keynote speak covered "Achieving Global Business Growth through Leadership & Innovation". The main thrusts were Leadership, Corporate Culture, Innovation and Brand centricity.
Azran Osman Rani shared the four main aspects to human resource management: a clear sense of purpose, openness and accessibility, growth opportunities, and culture.
He also addressed corporate culture, and how in the business of people, people make and break companies, and their happiness is what matters most. The strongly-held organisational culture that bonds employees is created through various company experiences.
Innovation has been one of the key success factors of AirAsia X being a transformed organisation. Azran Osman Rani believed in challenging conventional wisdom and to have a mind-set that constantly questions "What to do during the crisis to be able to emerge stronger when the crisis is over ".
Azran Osman Rani discussed the importance of having a clear proposition for the people an airline serves, just like in the hotel industry. He shared with the audience the journey of how the airline was built through strong leadership and ground breaking innovation, taking in annual revenues of USD 600 million just four years after the company began.
Azran Osman Rani also shared how Air Asia X plans to become a USD 1 billion enterprise in the next 5 years. Experts had dismissed AirAsia X's dream of a low-cost long-haul airline as impossible, but this didn't put off Azran Osman Rani. As he shared with the audience: "Just because everyone else says it cannot be done does not mean that they are right".