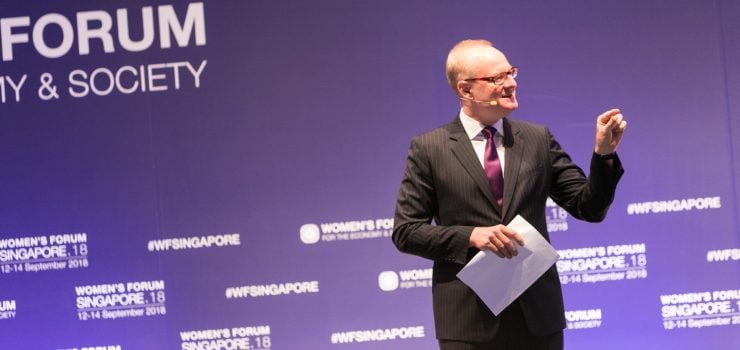 The first ever Women's Forum Singapore 2018 was held at the Raffles City Convention Centre in Singapore from 12-14 September 2018. Singapore was selected to be the venue for the conference due to its position as a cosmopolitan nation bridging ideas, dialogues and cultures from across the region and around the globe, and with women taking leading roles in society at large.
As chair and master of ceremony, Martin Roll welcomed the President of Singapore, Halimah Yacob as Guest-of-Honor, and Minister of Culture, Community & Youth, Grace Fu, as distinguished speaker at the event. Other distinguished speakers at the event included Swan Gin Beh (Chairman of Singapore Economic Development Board, EDB), Kwon-Ping Ho (Executive Chairman of Banyan Tree Holdings) and Helene Von Reis (CEO, IKEA Japan).
With the theme of "Bridging Worlds For Inclusive Innovation", the conference brought together more than 1,000 influential business, institutional and political leaders from across business, government, civil society and academic fields to explore best practices and solutions to strengthen women's leadership and create impact. The highlights of the conference included more than 30 sessions and 100 speakers in round-table and plenary forums debating on concrete solutions, and a Gala dinner at the Singapore National Gallery.
Day 1: Promoting diversity, innovation, technology and leadership
During his opening remarks on Day 1 of the conference, Martin Roll highlighted the importance of women in leadership. According to a 2018 McKinsey report "The Power Of Parity", companies that lead in gender diversity were 21% more likely to outperform on profitability and 27% more likely to have superior value creation. The companies led by women had bottom lines that extend beyond financials.
Women are driven by making a positive impact in terms of employees, communities and societies, and are guided by social purpose – something that is getting more and more important for consumers today.
In addition, advancing women's equality across Asia-Pacific countries could add a collective USD 4.5 trillion to their GDP by 2025, and in doing so, support the region to unlock its tremendous economic and technological potential. For Singapore, this would mean an injection of USD 20 billion to its annual GDP by 2025, a 5% increase.
Some of the plenary session topics for Day 1 included:
Reimagining the ASEAN future in a disrupted world – moderated by Pamela Qiu, Associate Director, South-East Asia, The Economist (Singapore)
Next in tech: enterprises taking over the technology world – moderated by Bertilla Teo, CEO, Greater China, Publicis Media (Singapore)
Dare to be first: Business education for women's leadership – moderated by Lydia Lim, Head, Training and Talent Development, The Straits Times
Tackling climate change: Designing ASEAN's sustainable future – moderated by Jessica Cheam, Managing Editor, Eco-Business (Singapore)
Making smart cities inclusive: design, mobility and connection – moderated by John Rossant, Chairman, New Cities Foundation (USA)
Day 2: Impact of women leadership on ASEAN businesses
Martin Roll opened the second day of the conference with a powerful quote by Christine Lagarde: "As I have said many times, if it had been Lehman Sisters rather than Lehman Brothers, the world might well look a lot different today".
A 2015 study by the Morgan Stanley Institute for Sustainable Investing found that female investors are more likely to factor sustainability into their investment decisions, with female investors nearly twice as likely as male investors to consider both rate of return and positive impact when making an investment.
Some of the plenary sessions included:
How can women's leadership foster responsible finance and innovative wealth management – moderated by Jessica Robinson, Founder and Managing Director, Moxie Future (UK)
Changing mindsets through education and innovation – moderated by Julia Leong, Director of Business Operations, APAC, LinkedIn (Singapore)
Disruptive innovation for inclusive healthcare – moderated by Xin En Lee, Multimedia Journalist, CNBC International (Hong Kong)
Designing a better world: Women and STEM – moderated by Jean-Philippe Caude, Senior Vice President, Caude Management (France)
Make it better: How to bridge the aspiration and confidence gap – moderated by Amy Qin, Asia Culture Reporter, The New York Times (USA)
What should diversity leadership look like for ASEAN business? – moderated by Leah Daughtry, President & CEO, On These Things (USA)
Nurturing impact investing for economic resilience through women's leadership – moderated by Sui-Lee Wee, Business correspondent, The New York Times (Singapore)
Day 3: Start-up Pitch Contest and CEO Champions Initiative
Day 3 and the final day of the conference consisted of a Women-led Start-up Pitch Contest hosted and led by Facebook and INSEAD Business School, and The CEO Champions Initiative luncheon and workshop.
The CEO Champions Initiative was launched in 2010 by EY and the Women's Forum for the Economy & Society to drive progress and accountability for women's advancement in the private and public sectors. This peer-to-peer network presents an opportunity for CEOs to underscore their organisations' commitment to women's advancement as well as to taking a strong leadership role in the global economy and society.
CEO Champions members are active, highly committed participants who track and drive measurable progress for women's advancement through mutual commitments and accountability. In Singapore, the CEO Champions Initiative was co-hosted by the Women's Forum for the Economy and Society and Singapore Summit and with the support of McKinsey & Company as knowledge partner.
With an introduction by Martin Roll, a welcome speech by Ho Kwon Ping, and a closing remark by Clara Gaymard, Executive President and Chiara Corazza, Managing Director of the Women's Forum for the Economy & Society, the CEO Champions Initiative rounded off the 3 day forum.
About Women's Forum
The mission of the Women's Forum for the Economy & Society is succinctly summarized by a quote by Chiara Corazza, the Managing Director of Women's Forum: "The idea of creating bridges among women around the world is very important to me. My ambition is to build bridges between generations, between young entrepreneurs and role models."
Since 2005, the Women's Forum for the Economy & Society has been the world's leading platform featuring women's views and voices on major social and economic issues. Along with the flagship Women's Forum Global Meeting in Paris, prior Women's Forum Meetings have taken place in Canada, Brazil, Myanmar, Brussels, Italy, Dubai, Mexico and Mauritius.
The Women's Forum for the Economy & Society expresses its commitment to women's progress throughout the year with a range of Women's Forum Initiatives set up in partnership with corporations, media groups and non-governmental organizations. The Women's Forum also promotes the advancement of women through regional and international networks.
Headquartered in Paris, the Women's Forum for the Economy & Society is a Publicis Groupe company.
Women's Forum meetings aim to bring together leaders from all over the world – women and men – to consider new perspectives on key issues; to create a powerful, global network in order to strengthen the influence of women throughout the world; to draw up innovative and concrete action plans to encourage women's contribution to society; and to promote diversity in the business world.
Insights link
About the Master of Ceremony: Martin Roll – Business & Brand Strategist
Read more about Women's Forum Singapore 2018: Bridging Worlds For Inclusive Innovation 12-14 September 2018
Read more about Women's Forum: The Women's Forum for the Economy & Society