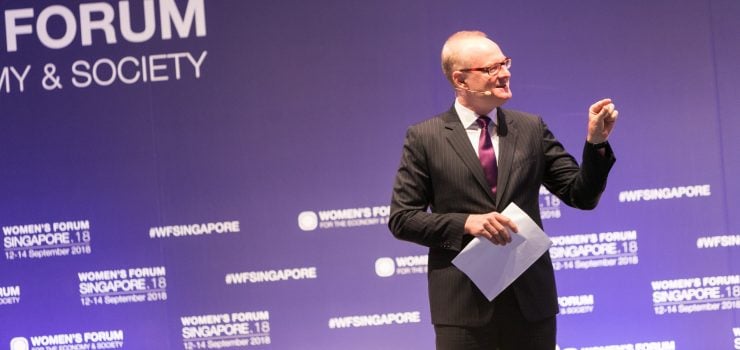 Leading up to the Women's Forum 2018 held in Singapore from 12-14 November, Martin Roll was featured in an exclusive interview with the event organizers in August 2018.
In the interview, Martin Roll discussed Singapore's standing on the global stage and the ways that the city state can continue to build brand equity and differentiate itself from other international hubs like Dubai. In addition, Martin Roll also commented on the current role of women in corporate leadership and ways that companies can help to integrate and empower leaders.
1. Singapore conducted a rebranding campaign titled "Passion made Possible" in 2017. How can Singapore further create brand equity? How can it distinguish itself from hubs such as Dubai which also market their business and tech capabilities with its culture, history and people? 
Passion made Possible was a rebranding campaign launched by the Singapore Tourism Board and the Singapore Economic Development Board, to boldly showcase the Singapore attitude and mindset as one that is passion-driven, determined and always persevering towards success. For the first time, the focus was on Singaporeans and their spirit, instead of its infrastructure, green landscape and cosmopolitan culture.
Singapore has come very far in just a short span of 50 years – from a colony to a city-state with its own unique identity that is different from any other city in the world. Singapore can maintain and further create brand equity in the following ways:
Export branding: Export branding refers to the export of goods associated with a nation. Singapore has historically done well in the export of machinery, electrical equipment and mineral fuels. However, there is huge potential for Singapore to leverage on exporting its culture. Singapore can look towards how Hallyu (The Korean wave) has boosted the South Korean economy. 'Made in Singapore' is still a relatively new and unexplored concept. There is a lot of potential for local brands and companies to bring 'Singaporean' experiences into the global scene.
Generic nation branding: This refers to boosting a country's national brand image to the rest of the world through strategically promoting brands that boost a country's national image. As the lead agency promoting overseas growth of Singaporean brands, IE Singapore should continue to spearhead national branding program to raise the profile of Singapore's manufacturers and brands overseas.
It is also important for Singapore to take notice of and promote brands that can help to boost its country image. Singapore's most famous brand, Singapore Airlines, has contributed around 20% to the overall nation brand equity of Singapore.
Internal nation branding: For a nation to boost its brand equity, it is important to ensure it stays attractive to foreign investment, through efforts like building a talented and productive workforce. As a country with scarce natural resources, human talent is the key to success for Singapore. Skillsfuture, a national movement to encourage Singaporeans to take ownership of their skills development and lifelong learning, is a good example of an initiative to ensure that people's talents and skill-sets stay relevant in the workplace.
2. As you will be speaking at Women's Forum Singapore, could you share with us some areas and industries where women leadership have benefited from and those where women leadership is badly needed? How can we empower leaders and not just women as leaders?
Companies in the MSCI World Index with strong female leadership generated a Return on Equity of 10.1% per year versus 7.4% for those without. Introducing women into leadership positions means introducing diversity in company's leadership teams, because diverse teams make better decisions. Some industries that have benefited from having women in their leadership include fashion, cosmetics, retail and hospitality, including companies like L'Oreal USA with 53% female Senior Managers, Marriott International with 42% female Senior Managers, and Procter & Gamble with 36% female Senior Managers. Conversely, industries that badly need to balance the female-to-male employee ratio include traditionally male-dominated industries like finance and technology.
According to 2018 McKinsey report "The Power Of Parity", all countries in Asia Pacific including Singapore could boost growth by up to 12%, just by advancing women's equality in leadership. To achieve this massive growth boost, the region will need to increase the participation rate of women in the labour force, increase the number of paid hours women work, and add more women to higher-productivity sectors.
3. Where does Singapore rank in terms of diversity and inclusion? How can Singapore improve further from its status quo?
Although Singapore ranks third in Asia-Pacific in gender equality for labour-force participation, with an inequality score of 0.68, it has room for improvement. In Singapore, only 25% of senior management and 8% of Board members are women. There is potential for more women representation in professional, technical jobs and leadership positions, and closing the gender wage gap.
Nonetheless, Singapore ranks top in Asia-Pacific in gender equality for physical security (including sex ratio at birth, child marriage and violence against women).  It also does considerably well in gender equality for services and enablers, including meeting unmet needs for family planning, maternal mortality, education and digital inclusion.
Insights links
About Martin Roll: Martin Roll – Business & Brand Strategist
Read the interview: An interview with Martin Roll – Master of Ceremony at Women's Forum Singapore
About the role: Martin Roll Was Master Of Ceremony For The Women's Forum Singapore 2018
Read about Women's Forum Singapore 2018: Bridging Worlds For Inclusive Innovation 12-14 September 2018