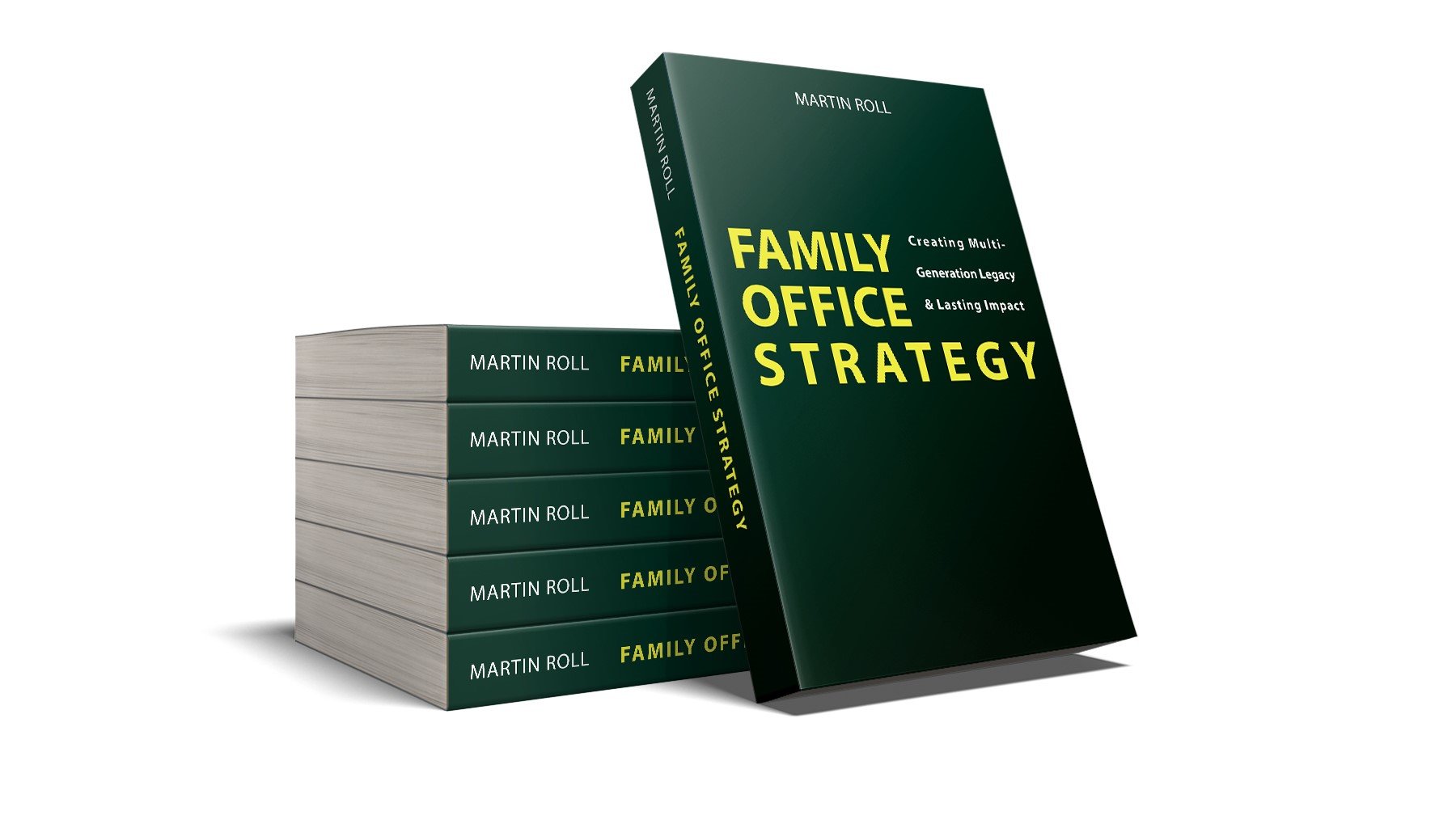 Martin Roll will publish a new management book titled "Family Office Strategy – Creating a Multi-Generation Legacy" in 2023. The book will contain strategic frameworks, hands-on cases and concrete examples on how to develop and implement a family office strategy across multi-generational family members and stakeholders.
The Family Office Strategy book will also discuss how to successfully design, structure operations and manage a family office, how to implement and enforce good governance, how to lead global family offices with impact over the long-term, and the steps to create a multi-generation purpose and legacy.
Martin Roll has a wealth of consulting and mentoring experience as a senior advisor to multiple global family offices and family-owned businesses over the past 25 years. He has been a Senior Advisor to McKinsey & Company.
Martin Roll is also a Distinguished Fellow at The Wendel International Centre for Family Enterprise at INSEAD Business School where he teaches family business programs and mentors INSEAD next generation family business students. He also contributes to research, drives thought-leadership and provides insights to a variety of strategy and leadership programs related to the most pressing issues facing global family enterprises in a fast-paced, technology-driven and increasingly digitalized world.
The definition and role of the family office
A family office is a professional organization or private office dedicated to managing the affairs and interests of wealthy families. It manages the diverse interests and the complex stakeholder relationships that often follows from being a family in business and/ or a family with significant wealth spanning one or more generations.
The first family offices were established back in history to manage the wealth of successful entrepreneurs, and the modern family office concept started to develop in the 19th century. In 1838, the family of financier and art collector J.P. Morgan founded the House of Morgan to manage the family assets. The Rockefellers founded their own single-family office in 1882, which is still in existence and provides services to other families. It became a multi-family office in 1980.
Family offices have since then become modern, sophisticated outfits serving a range of different objectives and purposes managing private wealth and a variety of family affairs.
A successful family office strategy requires clarity and distinctiveness at the core of operations, defining and aligning on a shared future purpose among family members (often across multiple generations with diverse perspectives and motivations), relentless leadership, a strong focus on operations, detailed execution and a balance of short- and long-term performance to ensure a multi-generation legacy.
In the next 5-10 years, global family firms including several family firms in Asia will have to determine their long-term strategic direction, the overall family business strategy, and manage succession to next generations very carefully. However, the needed strategic direction, clarity and family business governance as a solid path to succession is often not fully in place. Consequently, many family businesses are not fully prepared to face the headwinds of the future.
Generational power shifts can be hard to manage as family members often find it hard to step aside and relinquish control to the next generation. Long-term viability of family businesses requires each generation to have high levels of ambition and motivation to drive family unity.
This is also where a family office comes into play. Family offices can often be the long-term solution to mitigate potential conflicts during that sensitive process as it can serve as a center of multiple, diverting family interests, help to align family members, manage their ownership and diverse interests in the family firms, and serve as a long-term foundation of multi-generational performance driven by a strong purpose and legacy.
Family offices are in many cases better vehicles to address the growing complexity of structures and family relationships compared to simple wills or holding companies as succession tools.
Successful family offices must have a clear view of what the family, the investments and activities bring to the world, why it matters to stakeholders, how the family will structure and manage the family office, who in the family will be involved, and how governance will be carried out by the controlling family. A successful family office and a strong family office strategy is a careful and curated balance between the past, present and the future.
The importance of family offices in the global economy
There are approximately 10,000 family offices in the world and 50% of them have been created since 2005 representing thousands of business families. For example, the number of family offices in Singapore quadrupled between 2016 and 2018 according to the Monetary Authority of Singapore.
When searching for "family office" on Google in 2009, it produced 169 million hits. In February 2010, the figure had grown to 282 million, and by June 2019 it produced 9 billion hits according to a report from Swiss wealth management firm Pictet.
The family offices hold an estimated 4 trillion USD of assets under management (AUM) and have become an increasingly important source of global investments.
The role of the next generation is also changing the future landscape of family offices. In the US alone, a significant portion of wealth will be passed on to the next generation before 2030. US millennials are estimated to be inheriting more than 30 trillion USD over the next 30 years.
The same trend is seen in Asia where next generation and succession are strategic issues with significant wealth being passed on from the first- and second-generation family business owners.
The wealth of women is also changing dramatically which will impact family office strategies across multiple aspects. Approximately one-third of the global wealth (72 trillion USD) is held by women, and women are expected to inherit 70% of the assets passed down over the coming generations.
Furthermore, family offices have begun to be actively involved in impact investing (investments that aim to benefit society or the environment while generating a financial return) which is often driven by the next generations in business families whom are stepping up to take a lead in this emerging space. The global impact investment is significant and estimated to grow in the coming years.
Family offices are well aligned and suited for impact investing as they to have a long-term view and approach to managing assets, they have fewer constraints and have a larger degree of flexibility in selecting their investments.
Content of the Family Office Strategy book
Based on global research and real-world family office strategy case studies, Martin Roll will outline the roles and responsibilities of the family and family members, how to create a successful family office strategy and global best practices to ensure successful family office longevity. The book will discuss effective ways in which family offices can drive sustained long-term impact and performance to create and maintain multi-generation legacies.
The following will be the content outline of the Family Office Strategy book:
What is a family office?
Strategic importance of family offices in the global economy
Global family office trends and perspectives
Family office strategy: A global management framework
Creating, detailing and deciding on a long-term family office strategy
Defining the roles of the family and family members
Family office leadership
Professional management versus family
Talent management
Family office board structures
Structures, implementation frameworks and operation models
The family office investment portfolio
Philanthropy, social and impact investing
Balancing risks, rewards and governance
Driving long-term impact in a family office
Creating and maintaining a multi-generation legacy
The future of family offices
The Family Business Office book will be a source of inspiration, frameworks, guidelines, management models and global best practices.
It is aimed at multiple audiences: Wealthy families, family office boards, CEOs, principals, business leaders, senior executives, family business leaders, private equity investors, venture capitalists, fund managers and other investors who are keen to create sustained, long-term impact across multiple generations and contributing to building strong legacies.
Insights
About the author: Martin Roll – Business & Brand Strategist
INSEAD Distinguished Fellow: Martin Roll Appointed Distinguished Fellow at INSEAD Business School
Family Business Strategy book: Family Business Strategy – Leading Future Paths With Impact
Succession in family business: Strategy And Succession in Family Business – Charting The Future
Read more: Insights & Articles