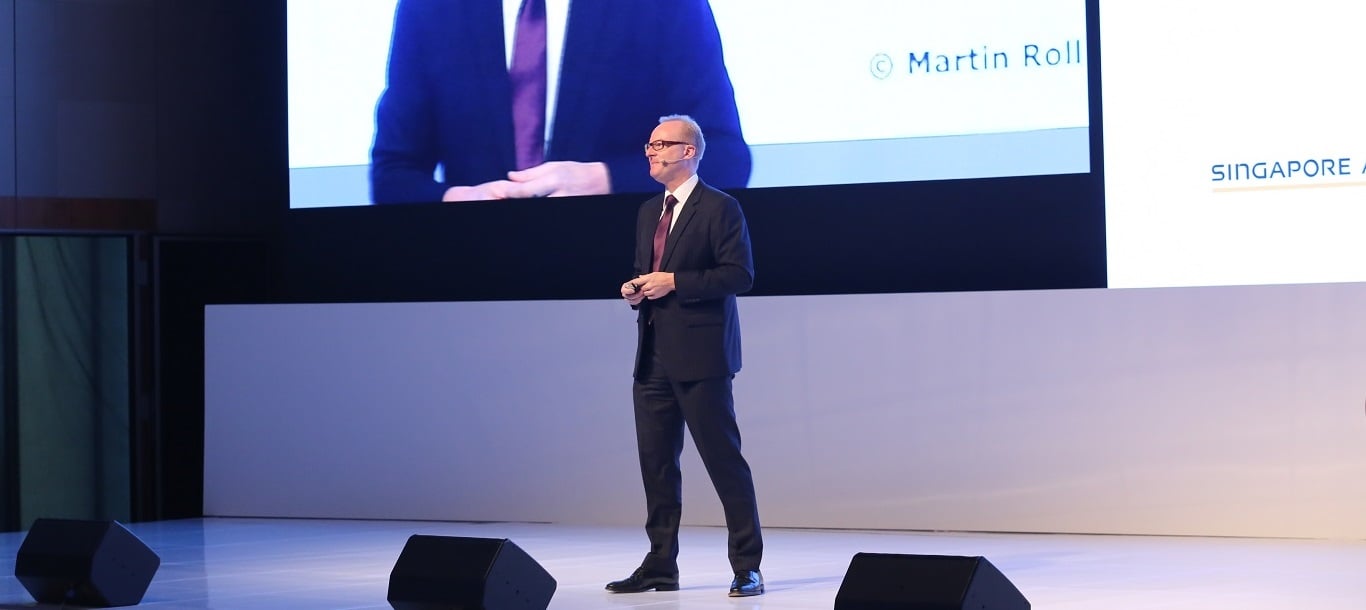 Martin Roll will be the conference chair and the master of ceremony of the Women's Forum Singapore 2018, to be held at the Raffles City Convention Centre in Singapore from 12-14 September 2018. As a cosmopolitan nation bridging ideas, dialogues and cultures from across the region and around the globe, Singapore was selected to be the venue for the conference.
Asia-Pacific is one of the most socially diverse and economically dynamic regions in the world. The myriad cultures and communities within Asia-Pacific which have historically cross-pollinated each other in everything from food to ideas, support a rising and increasingly global business community. For example, within Southeast Asia alone, the ten nations of ASEAN will make up the world's fifth-largest economy by 2020 and include some of the fastest-growing economies in the world with an average growth rate of 5.2%. Additionally, Asia-Pacific is also one of the leading regions in the field of innovation.
Women across Asia-Pacific can provide daring leadership, distinctive vision, added value and innovative views. Their perspectives, drawing on the region's national and cultural diversity, can help address today's challenges. Advancing women's equality across Asia-Pacific countries could add a collective USD 4.5 trillion to their GDP by 2025, and in doing so, support the region to unlock its tremendous economic and technological potential.
According to a 2018 McKinsey report "The Power Of Parity", it was found that all countries in Asia Pacific could boost growth by advancing women's equality. The largest absolute GDP opportunity is in China, at USD 2.6 trillion, a 13 percent increase over business-as-usual GDP. The largest relative GDP opportunity is in India, which could achieve an 18 percent increase over business-as-usual GDP, or USD 770 billion. To achieve this massive growth boost, the region will need to increase the participation rate of women in the labor force, increase the number of paid hours women work, and add more women to higher-productivity sectors.
With the theme of "Bridging Worlds For Inclusive Innovation", this conference will bring together more than 1,000 influential business, institutional and political leaders from across business, government, civil society and academic fields to explore best practices and solutions to strengthen women's leadership and create impact. The goal is to express a clear, action-oriented vision and gender-based analysis of issues confronting the world today.
Some highlights of the event will include forums with debates on concrete solutions, plenary and round-table sessions, debate and workshops with more than 30 sessions and 100 speakers, and a Gala dinner at the Singapore National Gallery.
As chair and master of ceremony, Martin Roll will welcome the President of Singapore, Halimah Yacob as Guest-of-Honor, and Minister of Culture, Community & Youth, Grace Fu, as distinguished speaker at the event. Other distinguished speakers at the event will include Swan Gin Beh (Chairman of Singapore Economic Development Board), Kwon-Ping Ho (Executive Chairman of Banyan Tree Holdings) and Helene Von Reis (CEO, IKEA Japan) – just to name a few.
About Women's Forum
The mission of the Women's Forum is succinctly summarized by a quote by Chiara Corazza, the Managing Director of Women's Forum: "The idea of creating bridges among women around the world is very important to me. My ambition is to build bridges between generations, between young entrepreneurs and role models."
Since 2005, the Women's Forum for the Economy & Society has been the world's leading platform featuring women's views and voices on major social and economic issues. Along with the flagship Women's Forum Global Meeting in Deauville, prior Women's Forum Meetings have taken place in Brazil, Myanmar, Brussels, Italy, Dubai, Mexico and Mauritius.
The Women's Forum for the Economy & Society expresses its commitment to women's progress throughout the year with a range of Women's Forum Initiatives set up in partnership with corporations, media groups and non-governmental organizations. The Women's Forum also promotes the advancement of women through regional and international networks. Headquartered in Paris, the Women's Forum for the Economy & Society is a Publicis Groupe company.
Women's Forum meetings aim to bring together leaders from all over the world – women and men – to consider new perspectives on key issues; to create a powerful, global network in order to strengthen the influence of women throughout the world; to draw up innovative and concrete action plans to encourage women's contribution to society; and to promote diversity in the business world.
Insights link
About the conference chair: Martin Roll – Business & Brand Strategist
Read more about Women's Forum Singapore 2018: Bridging worlds for inclusive innovation 12-14 September 2018
Register for the Women's Forum Singapore 2018: Bridging worlds for inclusive innovation – Registration
Read more: Insights & Articles