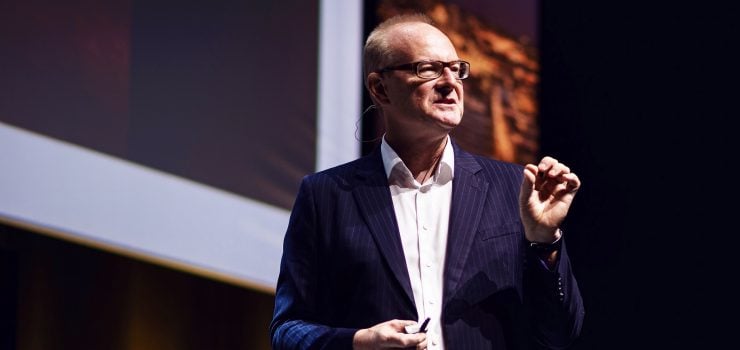 Martin Roll was the moderator for the executive conference "The Art of Social", held on 10 April 2019 in Copenhagen, Denmark. The objective of the conference was to provide social media managers and global business leaders with new ideas, perspectives and approaches to growing their businesses on social media.
The conference brought together international experts, thought leaders, influencers and clients all in one place to share their knowledge on engaging and optimizing social opportunities, and discuss potential threats that businesses may face.
Some notable speakers during the event included: Will McInnes (CMO of Brandwatch and TEDx Talker), Alexei Edwards (Head of Global Social Media at B&O), Evan Blair (Chief Business Owner and Founder at ZeroFOX), Alex McNab-Lundback (Head of Social Media at Maersk), Anita Veszeli (Head of Social Engagement at Ericsson), Rav Roberts (Global Head of Digital Governance at Diageo), Tara Clark (Head of Social Media Analytics at BBC), Jaya Deshpande (Senior Social Media Analyst at BBC), Allison Cannavino (Director of EMEA & APAC Channels at ZeroFOX), Ryan Holey (Head of Nordics at Hootsuite), Rikki van Berkel (Partnerships Sales Engineer at Brandwatch), Charlotte Kolkjaer (Solution Consultant at Infomedia), Colin Brice (Security Engineer at ZeroFOX), Charlotte Vang (Product Manager at Brandwatch) and Adrian Cockle (Principal Consultant at Hootsuite).
The event was organized by Infomedia (Nordic leader in media intelligence) with strategic partners Hootsuite (global social media management leader), ZeroFOX (global social media and digital protection leader) and Brandwatch (global social intelligence leader).
Insights link
About the author: Martin Roll – Business & Brand Strategist
Read about the impact of social media on boardrooms: How Boardrooms Must React To A World Of Devices, Data & Social Media
Read about the event: The Art of Social – April 2019
Read more: Insights & Articles