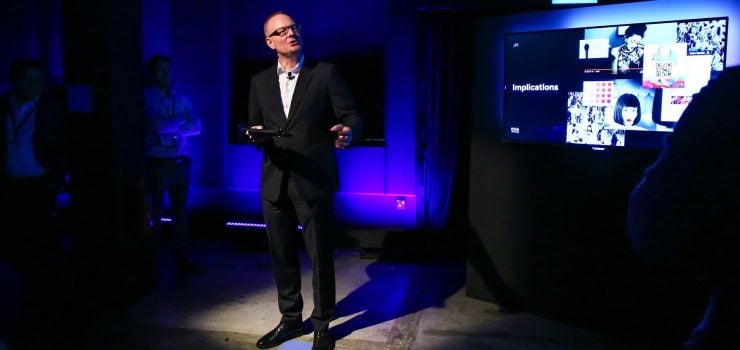 In November 2018, Martin Roll moderated a panel discussion of industry experts including Google Asia Pacific's CMO Simon Kahn, Asian Consumer Intelligence founder Nicole Fall, Ipsos' chief commercial officer Arnaud Frade, and Google Asia Pacific's Stuart Pike. During the session, the panel shared their views on the value of insight derived from consumer data, and the role of the organization in fostering innovation.
The session is an initiative as part of Google's knowledge platform, Think with Google. The platform offers data, insights, trends, analysis and other resources across a wide variety of industries to marketers, in order to enable and empower them in their daily work.
Prior to this interview, Martin Roll had co-authored and presented a consumer trends report for Google titled "A Peek Into Your Consumer's Future", together with Nicole Fall. Martin Roll was also featured in an interview by Google, 3 Lessons for Brand Marketers in the Digital Age, also featured on Think with Google.
Insights – making sense out of data
Data refers to the raw material collected from historical consumer behavior and is a necessary component to finding insights. An insight is the result of connecting the dots between the data to understand the underlying human motivation to predict future behavior. It is important for businesses to clearly define an objective to realize insights that can answer the business challenge. In addition, businesses need to have the discipline and proper processes to sift through the ocean of data and search for the insights that can truly add value.
Nonetheless, Stuart Pike explained that it is also important for business executives to notice when opportunities arise and be agile in using insights to drive business objectives. Nicole Fall agrees, highlighting the importance of simply having experiences, looking at the world around us, and identifying what drives human behavior.
Courage to challenge the status quo is key to success
Martin Roll notes that it is difficult in our KPI-driven world to achieve buy-in from a board into something that has long-term potential but has no immediate returns. Arnaud Frade feels that courage is key for leadership to be able to make uncomfortable decisions when consumer insight indicates a lack of viability of the company's offering. The most forward-thinking and disruptive companies have proven to disrupt themselves and constantly challenge the status quo. These organizations are making a proactive effort to break the rules, as opposed to being reactive to the world around them.
Simon Kahn believes that this courage starts with company culture and shares that within Google, marketing is categorized into: established products (e.g. Google Search), bigger bets (e.g. Google Cloud), and moonshots (e.g. AI Experiments). To be able to design the products effectively, it is essential for all 3 categories to have a deep understanding on how the customer uses the various products and this is where employees need to practice courage in managing the customer relationship life-cycle.
Leadership needs to also be supportive of risk-taking behaviour. When business grow larger, it becomes increasingly difficult to take risks in favour of protecting the company's legacy processes. However, great leaders are those who encourage employees to take risks and are not afraid of failure.
Expansion within Asia
With regard to expanding within Asia, some Western brands face the challenge of reinventing their processes and offerings to suit the Asian market, due to their legacies. Arnaud Frade highlights that for the consumers in many developing markets, there is a lack of awareness about global brands and their legacies. This could be an opportunity for large Western companies, only if they have the patience to learn the market nuances and develop targeted offerings.
Simon Kahn believes that consumers in Asia Pacific are more flexible and willing to go with the flow, as seen from the rise of social commerce. Compared to the US where people usually consume from large recognized brands, in Asia Pacific, consumers are willing to buy from entrepreneurs who sell on social platforms and rely on human interactions.
Marketers within Asia Pacific today need an experimental mindset. Despite the more complex challenges, opportunities are getting more exciting. One example is the rise of "super apps" like WeChat within China, a single app for users to do almost everything on. For businesses, this means that it could be easier to accelerate adoption rates and introduce new products and services due to the consolidated channel to reach users.
Embrace an insights-driven culture
As more consumers in Asia get more digital, marketers will have a plethora of opportunities to find and harness insights about their unique interests and online behaviors. However, insights are not synonymous with data. An insight is a new revelation about human behavior that is distilled from data.
Finding actionable insights is not exclusively a result of formal research. It is everyone's responsibility at every level of the organization. Creating a culture that rewards ambition and experimentation – not just success – will be critical to instilling that curiosity.
Insights link
Read about the panel discussion: The role of insights in the modern APAC marketer's playbook – Martin Roll – Nov 2018
Read the interview: 3 Lessons for Brand Marketers in the Digital Age – Martin Roll – August 2018
Download the report: A Peek Into Your Consumer's Future – Google – April 2018
About Think with Google: Think with Google
About Martin Roll: Martin Roll – Business & Brand Strategist