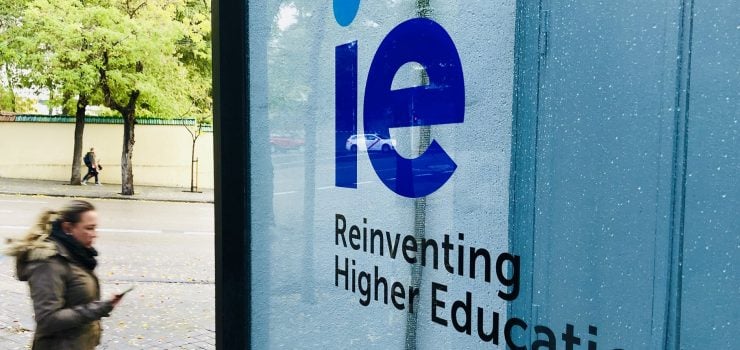 Martin Roll provided a guest lecture to the MBA class at IE Business School on 13 November 2019 in Madrid, Spain, on the topic of Family Business Strategy. Titled "Leading future paths with impact", the MBA class was aimed to introduce and discuss the opportunities and challenges that family firms across the world are facing, and share frameworks and best in class cases that family businesses can use to sharpen their strategies, build stronger brands, and achieve better business outcomes.
Overview of family businesses
Family companies account for 70-80% of global GDP and contribute to 60% of global employment. With 50% of the world's 10,000 family offices created since 2000, family businesses are a force for good whose impact on the global economy cannot be ignored. According to a study by McKinsey, by 2025, family-owned businesses may account for as much as 40% of the world's large enterprises – as compared to 15% in 2010.
In determining family business strategy, family business leaders need to define what they want their legacy to be. Martin Roll shared three key considerations when determining a successful family business strategy:
The long-term view will always matter as a driver of the family business strategy
The roles of family members require dedicated focus
Succession is a constant concern
Key challenges that family businesses face
Strategy is a clear set of directions, actions, roles and responsibilities. In order to best manage conflict and align interests, the strategic blueprint for family businesses should have purpose drive the business at its core, and include the following elements:
Family: Long-term aspirations, values and interests, succession plans
Ownership: Definition of partnership between members, design of liquidity, decision making mechanisms
Business portfolio: Corporate strategy (short, medium and long-term), portfolio renewal vs family traditions and risk taking, diversification and liquidity
Family office: Role in overall family ecosystem and business portfolio, family office policies, investment policies and governance
Impact: Fundamental objectives, strategy and supervision, ethics, financial and social impact of hybrid investments
Only when family businesses can clearly articulate their purpose (what the company will bring to the world), will they be able to establish a clear view of execution (how and when it will do it). Martin Roll gave the example of Jim Thompson, the world-renowned Thai Silk Company, which was built on a strong myth with a modern twist and is perceived to be highly authentic. With this strong heritage and authenticity, it has a very clear purpose, which is to bring the Thai experience to the world through its beautiful silk products. This has helped the company to lead relentless execution of its strategy.
Key opportunities for global family businesses
Successful family brands balance the past, present and future. With a laser-sharp purpose and heritage, the business can then build the brand through their expressive actions (behaviors, communications and symbolism) and reputation (credibility, authenticity and legitimacy).
It will be important for family businesses to define the brand guardrails (overall organizational boundaries on what to do and not to do) and ensure a common understanding of the beliefs, behaviors and actions across the entire family.
About Martin Roll
Martin Roll delivers the combined value of an experienced global business & brand strategist, senior advisor and facilitator to Fortune 500 companies, Asian firms and global family-owned businesses on how to build and manage strong, global brands as well as leadership of high-performing, marketing-oriented businesses in a hyper connected and fast-paced, digitalized world.
Martin Roll is the founder and CEO of Martin Roll Company and brings with him more than 25 years of C-Suite counselling experience. He is a mentor for next generation leaders in business families, start-ups and growth companies.
He is a Distinguished Fellow and an Entrepreneur in Residence at INSEAD Business School. He holds an MBA from INSEAD.
Insights links
About the author: Martin Roll – Business & Brand Strategist
About Martin Roll's experience with family business: Family Business – Martin Roll
About new management book: Martin Roll Will Publish New Management Book: Family Business Strategy (2020)
About INSEAD Executive Education: Martin Roll Teaching Family Business Strategy at INSEAD Executive Workshops
About Thinkers50 Pre-Events: Martin Roll Spoke At Thinkers50 Pre-Events About Family Business Strategy