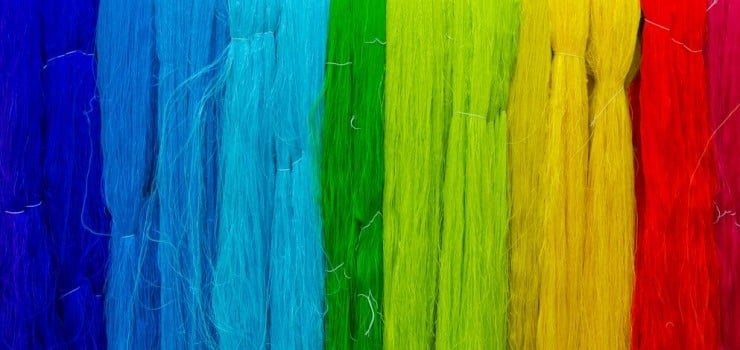 The Jim Thompson Thai Silk Company from Thailand is a well-known Asian brand with great potential to become a strong international lifestyle brand. Known for its silk fabrics, apparel, accessories and lately home furnishings, it is one of the few brands praised by the Thai Royalty, celebrities and the discriminating public for its quality, designs and Asian sensibility. From the time it was established in 1951 by Jim Thompson, an American soldier settled in Thailand, the brand has steadily strengthened its reputation.
The company operates 24 retail stores in Thailand and 2 in Singapore. Jim Thompson has showrooms all over the world, including USA and Canada, Europe (Paris, Munich, Italy, London, etc.), Asia (China, Russia, South Korea, Japan, Malaysia, Philippines, Indonesia, Hong Kong, Taiwan, etc.), UAE, Middle East and Oceania (Australia and New Zealand). Jim Thompson has established a strong name for itself locally, regionally and globally with more than USD 100 million in sales across the group. The company employs over 3,000 people across its operations, and the brand is present in more than 40 countries globally.
Evolution of the Jim Thompson brand
When Jim Thompson resigned from the American armed forces and decided to settle down in Thailand, he spent much of his time initially travelling around it, particularly the northeast region. He became fascinated with the pervasive rural Thai silk cottage industry, which flourished as most village families had traditional hand looms under their houses where cloth was woven locally for their personal clothing. Jim Thompson astutely realized the potential for bringing Thai silk to international attention and acclaim, and to an honored place on the international fabric stage. He took the initiative to "go international" by standardization of the silk woven through the use of chemical dyes. He used his acute sense of style to adapt traditional Thai designs and color schemes to international tastes.
Jim Thompson began his first commercial weaving operation in the Muslim Ban Krua village that now lies just across the canal from his renowned house. He established close personal ties with these village weavers and they became small stakeholders in the Jim Thompson Company.
Jim Thompson was able to produce a world-class silk product that captivated the international community with the charm and feel of a hand-woven product far superior to similar products. For example, Thai silk is different from Chinese silk. Thai silk is inconsistent and has "humps and bumps" and iridescent colors (changing colors depending on the light). Also, Thai silk is not only good for garments but also ideal for home furnishing materials.
To ensure 100 percent quality control of the output, Jim Thompson has a vertically integrated production model. Though in 1967, 100 percent of materials were hand-woven silk, today only 50 percent are hand-woven silk and the remaining 50 percent are other materials. But, according to William Warren, a Jim Thompson biographer based in Bangkok, "it took years of experiment, frequent frustration and plain hard work first to persuade a handful of remaining weavers to increase production on better looms, using colour-fast chemical dyes instead of traditional vegetable colors, and then open up foreign markets where none had existed before".
The founder, Jim Thompson, was successful in taking Thai silk beyond Thailand by leveraging his contacts in the United States and other countries. Thai silk gained international recognition in Vogue magazine, and in 1951 it was featured in a Broadway production, The King and I. Later in 1959, the brand had another big break when the Queen of Thailand wore Jim Thompson during her royal tour to the United States. The company also benefited a great deal from the personal charisma and personality of Jim Thompson. His efforts to establish the Thai silk company proved to be a major profit-earner. This gained him much respect and adulation. In 1967, Jim Thompson disappeared mysteriously in Malaysia's Cameron Highlands and was never found. There has been no proof found to give credence to any of the many theories around his disappearance. Thus, this lingering mystery has added greatly to the brand's legend and myth.
Today, almost 70 years since its inception, the Jim Thompson Company continues to grow with its inimitable zest and passion. Though it started out with just silk fabrics, by leveraging its brand equity and the Thai heritage, the company has now diversified into many other related product lines, the latest one being food & beverages (restaurants) and home furnishings. In 2001, it signed up renowned London-based Thai designer Ou Baholyodhin, known for his vibrant designs strongly influenced by Asian cultures, to craft the new furnishing line in collaboration with the in-house design teams. Ou Baholyodhin has throughout the years advised Jim Thompson, and helped to craft new innovations and designs for the company.
Jim Thompson Company's strategy going forward is to focus on finished products for the home. The company is focusing on retail products in Asia where it has strong brand equity. As the brand is strongly linked to the Thai experience, buying Jim Thompson products for a tourist relates to bringing home a piece of Thai culture. This is why a significant proportion of retail customers in Thailand are tourists who buy gift items when returning from Thailand.
However, in Europe and the United States, where the company is building its brand, the Thai connection and direct experience with Thai culture is relatively difficult to establish. Therefore, the company is focusing on finished products for the home, which are distributed through local distributors and displayed in Jim Thompson's own global showrooms.
Jim Thompson has also collaborated with Ed Tuttle, a leading American designer. Through this collaboration, Jim Thompson provided custom-made fabrics (Rue de la Paix, Vendome and Chenille Canvas) for his architecture and design projects, which included Amanresorts and Park Hyatt Hotels. As design is a vital part of the company's success, these collaborations with external consultants also provided the company with insights on the latest upcoming trends in global markets.
The brand philosophy
The company's brand is primarily built on 3 pillars. The first is the legend surrounding the founder Jim Thompson. The second is the unique blend of eastern (Thai) tradition and heritage with western contemporary designs based on traditional Thai symbols and patterns. The third is the elevation of the brand from a cottage industry product to a fashion and lifestyle concept.
The Jim Thompson Company has built a story of the brand surrounding the founder, his origins, his contributions to the Thai silk industry and his eventual mysterious disappearance. The founder's journey to take the Thai silk industry global and his drive to involve the weaving community as strategic partners in the business itself is a legend in Thailand. By leveraging this connection, the Jim Thompson Company has been able to blend into the social fabric of the country.
Finally, Jim Thompson has created a lifestyle concept centered on silk and contemporary designs. Though the company started out with silk fabrics, it has now successfully expanded into home furnishings and even into restaurants. Jim Thompson runs 2 restaurants in Bangkok and one in Singapore. These brand extensions have enabled Jim Thompson to create an emerging premium lifestyle concept around the core brand offering.
By developing the brand on these three pillars, Jim Thompson has been able to maintain its differentiation and build a strong brand. The brand is perceived to be highly authentic, to have high quality and a strong heritage.
In recent years, global competition and customer trends have evolved significantly, and Jim Thompson will have to revisit its brand identity and market position to ensure it stays competitive in this changing global landscape. Jim Thompson has other global brands and their positioning strategies to get inspiration from. For example, Ralph Lauren is excellent at creating dreams and delivering the promises in a complete and distinct lifestyle. French luxury brand Hermes has an uncompromising attitude towards quality and is a very high-end, authentic brand. Bottega Veneta is known for its unbeatable craftsmanship and unwavering belief in a single strong signature product.
Jim Thompson brand architecture
Renowned for its quality, design and Asian feel, Jim Thompson has been widely acknowledged by leading brands in the hospitality industry. Since 1951, the brand's furnishing materials have been widely used by many luxury hotels in Bangkok, which include The Oriental, The Four Seasons, Amanpuri, the Regent, Conrad and the Sukhothai. In Europe, the London Savoy Hotel, Park Hyatt Paris and Park Hyatt Milan hotels, among others, have been attracted to Jim Thompson's furnishing materials. The Park Hyatt Paris has used 9,000 square meters of furnishing materials alone. These hospitality industry clients, among many others, serve as very strong testimonials for the Jim Thompson brand.
As it is common for a strong brand to leverage its equity and diversify into related market segments, Jim Thompson has also followed this path. Today, apart from its portfolio of personal goods, the brand has also extended into accessories for home furnishing, restaurants, and even a farm experience. Apart from commercial efforts, the Jim Thompson brand also delves into social and cultural endeavors, including launching its Jim Thompson Art Center in Bangkok and the Jim Thompson House & Museum.
Jim Thompson Personal Goods: One unique element about the Jim Thompson brand delivery system is that it chooses to farm its own silk in order to have absolute control over the finest quality of its products. The company originally worked closely with contracted specialists to breed a hybrid silk worm (combining Thai and Chinese-Japanese breeds) in order to produce its unique silk products. The Jim Thompson team designs and releases its products in seasonal collections, which includes scarves, ties, handbags, textiles and apparel.
Jim Thompson Home Furnishings: Leveraging its success in the personal goods segment, the brand decided to branch into the home furnishings industry by making curtains, upholstery etc. using its magnificent silks and fabrics:
Jim Thompson Home Furnishings: Inspired by the different fascinating cultures in Asia, this is the brand's first venture into the home furnishings industry. Its collections include fabrics inspired by Angkor Wat, Marco Polo, Silk Road, etc.
No.9 Thompson: With this opportunity to expand into different styles, Jim Thompson launched its first home furnishings brand extension No.9 Thompson in 2006, an elegant and relaxed brand extension of Jim Thompson. It adopts a new take on Oriental inspiration, staying true to the Jim Thompson heritage while using a lighter, painterly style for a young, contemporary edge.
Studio B: The brand later opened Jim Thompson America in 2011 and currently distributes through more than 20 showrooms across North America and Canada. Created by in-house Atlanta-based designer Brian Carter, the Studio B's designs are the result of handwork (either drawn, painted, cut-out or stamped) and feature irregularities, drips, brush marks and wavy lines, making up graphic patterns with expressive shapes.  The colors vary from neutrals to complementary colors.
Fox Linton: The brand later acquired Fox Linton, a quintessentially British luxury home furnishing brand founded in 2004 and established for its capabilities in creating opulent textiles. Fox Linton is well-known for its focus on a neutral colour palette developed by in-house designer Kathleen Butler. The collections are woven in mills in the UK and Europe and feature top quality wool, velvets, silk blends and soft-yet-durable linens.
Jim Thompson Farm: In 1988, the Jim Thompson Farm was to create a production facility for fertilized silkworm eggs. Continuing Thompson's legacy of philanthropy, the Farm aimed to provide fertilized silkworm eggs to farmers nationwide. The Jim Thompson Farm then buys back from local farmers many of the cocooned silkworms, which are used for the production of Jim Thompson silks. This venture has helped support local farmers and the rural economy in Thailand, an ethical business model which Thompson himself admired and sought to promote. Today, visitors can do a tour to explore the farm's cosmos flower fields, hydroponic vegetable gardens, villages and markets.
Jim Thompson Restaurants: Leveraging on its strong brand equity cultivated over 40 years, Jim Thompson ventured into the Food & Beverage industry in 1996 by opening Café 9 on Surawong Road in Bangkok. The restaurant was cladded in the same style and ambiance as Jim Thompson's teak house, and served its diners fine traditional Thai food. In 1999, to commemorate its founder's love for hosting friends over dinner parties, it opened the Jim Thompson Restaurant and Wine Bar, on the site of Jim Thompson's former home. A second outlet of this was also launched in Singapore. It later opened another Restaurant & Lounge, and Bombyx by Jim Thompson – a culmination of Thai art alongside the finest contemporary Thai cuisine. The Jim Thompson Restaurants are indeed a great way to present another channel for consumers to experience the Jim Thompson brand, rather than just its fashion and home products.
Through extending into multiple product categories, Jim Thompson has been able to leverage its brand equity to have a presence in these lucrative sectors. It is truly a success story of classic brand management – appealing to a broad category of discerning, quality conscious consumers through holistic brand equity encompassing multiple categories combined with a high-quality product experience.
Jim Thompson brand communications
Jim Thompson has selectively used mass communication channels to build its retail brand. The company uses other communication channels like fairs and exhibitions to create awareness about its professional home furnishings brand. It showcases its products during these events and generates considerable interest. By leveraging the unique designs of its retail stores where it showcases its entire product portfolio, the company offers a comprehensive customer experience. As Jim Thompson does not own retail outlets outside Asia, it works very closely with its international distribution partners.
Many of its resources are focused on internal marketing, which involves educating the channel partners about the brand, product features and benefits. Jim Thompson also maintains a list of more than 50,000 customer names in Thailand for local promotions. As all of these customers have already purchased Jim Thompson merchandise at least once, they also act as strong word-of-mouth marketers.
In recent years, the company has taken steps to enhance its marketing capabilities and insights to better tackle increased competition and changing customer needs and demographics. Jim Thompson has established a global marketing department as it aspires to become more market-driven and customer-centric. This also includes an enhanced focus on digital capabilities including a social media strategy and new online properties.
As the brand is strongly associated with its founder, with Thailand, and its identification with the Jim Thompson House in Bangkok, a museum open to the public could not be overlooked. The Jim Thompson House belongs to the legally, but not spiritually separate James HW Thompson Foundation (a non-profit organization devoted to the preservation and development of art, culture and heritage in Thailand). It displays a wide range of traditional objects d'art along with the entire product portfolio of Jim Thompson. In 2014, the museum had over 200,000 visitors adding significantly to the promotion of the brand to foreign tourists, including keeping the mystery around Jim Thompson's disappearance alive as part of the brand story. This not only helps build awareness among its prospective customer base but also reiterates its strong link with Thailand's heritage and culture. Today, the charming Thai style house continues to be a key stop for visitors to Bangkok.
The James HW Thompson Foundation also created and funded the Jim Thompson Art Center. The mission of the Art Center is to nurture artistic activities and create public awareness of both contemporary and traditional arts within today's context. Among its many activities, the Art Center organizes exhibitions; conducts educational and outreach programs; produces publications; and networks and collaborates with local and international cultural institutions.
Finally, the Jim Thompson Company is engaged in philanthropy including annual scholarships for children of workers.
The challenges ahead for Jim Thompson
Jim Thompson is faced with many challenges moving forward as several factors like increased competition, evolving global trends, modernization of Asia and macro-economic changes will impact the future success and growth path of the company. The Jim Thompson brand has been successful so far and is unique in many ways, but arguably it has grown slowly compared to how Asian and global markets have evolved in the last 20 years. In order to compete effectively, the company needs to acknowledge and tackle a variety of strategic issues around competition and revitalizing brand equity.
Creating a strong brand identity and personality: Jim Thompson's legend around its founder and the brand is popular in Asia among retail customers. However, in Europe and the United States, the company deals with hotels, designers and interior decorators. Thus, at an aggregate level, Jim Thompson primarily operates as a B2C (business-to-consumer) brand in Asia and a B2B (business-to-business) brand in Europe and the United States. Thus it needs to create a consistent brand identity that resonates across regions and customer bases, while still remaining responsive to the specific needs of any particular customer segment. Bridging a brand successfully across both B2C and B2B categories is always a challenge that needs dedicated marketing attention.
Installing a brand management system: As the brand grows, it becomes crucial to constantly monitor and hone the brand to reflect market demands. With any retail brand, the brand promise and brand delivery must work in tandem. Customer service, for example, is an important element. Jim Thompson owns retail outlets only within Asia, and in particular in Thailand where the brand is strongest. This necessitates that the channel members are properly trained in executing the brand promises outside Asia. For such a training system to endure, consistent support from the corporate management and continuous investment of resources is required.
Protecting the core Thai market: Thailand provides a disproportionate part of the company's revenues and primarily from retail stores – which is a cause for concern. Recently, the Thai market has been under pressure from the challenging political situation, and the associated decline in overseas tourists coming to Thailand – a major customer segment for Jim Thompson. The brand also seems to have somehow lost touch with the local, affluent Thai population. It thus needs to regain its strong position in Thailand to protect revenues and brand image.
Expansion beyond Asia: Jim Thompson's brand equity within Asia is related to a large extent to the legend of the founder. But outside Asia, this legend is less known and may not be very relevant. Moreover, an Asian brand with a Western name might confuse customers. Given these impediments, Jim Thompson should strive to create a brand with an appealing identity that is not only relevant to customers across regions but also captures its unique Asian heritage.
Taking a brand to multiple markets and sustaining investment in brand building can take a toll on resource capabilities. Moreover, most resources are utilized for operations and production. Jim Thompson needs to consider these factors before venturing into multiple markets and product segments.
Single brand company: Another major challenge will be to leverage the Jim Thompson brand name and potentially introduce new brands in the market. Jim Thompson has only recently started to introduce new brands to the market in its home furnishings segment. Until now, Jim Thompson has been a single brand company. Moving ahead, the challenge will be to cautiously leverage the brand equity through brand or line extensions so as to explore new opportunities either by introducing new brands to cater to new segments or by venturing into new product categories. Jim Thompson must be cautious in carrying out this exercise as it might result in a possible dilution of brand equity as a result of brand stretch. Finding the right balance between pursuing an expansion strategy and protecting the brand equity from dilution will prove to be a considerable challenge.
Capture younger generation: Jim Thompson's core clientele is concentrated among the older age groups, both in Thailand and overseas. The brand does not have a strong image or preference among younger consumers. Targeting the younger consumer and not diluting the brand equity will be an ongoing challenge and balancing act. The product segments are traditionally not those that appeal to youth. Appreciation and sensitivity towards finely crafted silk, homemade furnishings, silks, ties, scarves and accessories are life-stage driven and generally mature later in life.
Capturing the interest of the younger generation and thereby tapping into the lucrative apparel market will be a matter of careful strategic consideration. Launching a sub-brand might be a solution (for example, No. 9), which can be positioned towards the younger generation, without diluting brand equity.
Having a presence in the apparel segment for youngsters and being successful in it are two completely different stories. The company will come up against sizeable competition in this segment wherever it expands into and also in the regional markets where it has a successful presence.
Taking the brand into new product categories either via the use of the existing parent brand name or through a new sub-brand is viable but only until the category selection is rational, carefully researched and strategically analyzed. Launching into the restaurant business has been successful until now, but it is too far from an "adjacency play" for it to be successful in every market.
The company does have potential to expand its presence in the premium and luxury designer apparel segments by identifying more collaboration opportunities with influential designers. Premium and luxury are age-encompassing and will allow it to get closer to a wider age group of potential consumers.
Evolution of the product portfolio: Jim Thompson needs to streamline its product portfolio in the retail business and ensure a constant evolution of new merchandise in tune with customer needs and global trends. Again, a collaboration pipeline with influential designers can be a key success factor here. This will enable the company to influence trends (and not follow them). But, the collaboration choices need to be careful, strategic and future looking. Noting that the company is slowly embarking on a global expansion plan, its collaboration should be with individuals who have at least regional (if not global) appeal.
Jim Thompson has been strategic and sensitive enough to continually expand its product lines, but management of these lines, what to push and what to hold back in different markets, understanding distribution channel nuances and an in-depth understanding of consumer needs and preferences will be the key success factors.
Globalizing the company operations: Home furnishing is the only business unit operating in Europe and the US. For a company used to operating only in Thailand along with a few other Asian countries, operating globally can be a strategic, cultural and operational challenge.
Until now, the company does not have any of its own retail outlets in global markets outside Asia – despite the fact that the Jim Thompson brand has a huge, untapped global potential. The company is solely reliant on its few partners in these markets. Operating via a franchise/distribution model is not a recipe for disaster, but it is not effective for every product category. Jim Thompson operates at the juncture of legacy, tradition and luxury. These kinds of product characteristics and image require a tight control over the whole marketing mix of the brands in the portfolio. That can only come from either full or shared ownership in country level ventures or operations.
Besides the brand's intangible aspects, there is the challenge of having globally efficient production and distribution models. Because the primary raw material for the company's products is still Thai silk, decisions around locations for manufacturing need to be taken very carefully. The company has two key challenges to address here – one, the export of the raw Thai silk to any global manufacturing site and more importantly, how to access the skill of the local Thai craftsman in terms of working on the silk. The first challenge may well be addressed, but the second is more difficult.
As mentioned earlier, global expansion and establishing presence in multiple markets require a tight control over the brand and its presence. Jim Thompson has to ensure the same level of quality, the same image around legacy and tradition and the same level of experiential marketing that it has managed to create in Thailand. These cannot be created overnight, but the company has to make visible and conscious efforts and strongly portray its intentions to maintain its legacy and credibility everywhere it has a presence.
Transition of the senior management team: Last, but not the least, is the challenge around creating a globally focused senior management team. Not only do the board and the management teams have the responsibility to become more strategic, the local teams in the countries where the company has a presence or plans to have a presence, need to operate with a global mindset too.
Expansion of teams through fresh hiring and relocation should keep the trait of strategic thinking and global vision as key success criteria for individuals. Additionally, individuals responsible for shaping and driving the company's global operations should have a deep appreciation of the company's founder, its values, its contribution towards reviving an almost dying Thai silk industry and the quality and manufacturing process.
Conclusion: The Jim Thompson brand has huge potential for growth
The Jim Thompson brand was set up to be all about quality Thai silks and experiences. From the designs of its personal goods and home accessories, to the dining experiences offered in its restaurants, the Jim Thompson brand stands as one of the most impressive brands from Thailand and Asia – an amazing feat for a brand that has only been around for less than 70 years.
One of the secrets behind Jim Thompson's success is its ability to offer a consistent brand experience across its brands. By delighting customers in a consistent manner across all touch points in every Jim Thompson store they step into, the brand has created an environment in which it continually exceeds its customers' expectations.
Building and sustaining a personality that is relevant and one that resonates with the customer base is one of the most difficult aspects of building a strong brand. Jim Thompson, with its presence in diverse markets, has managed to hold up well to this challenge of building a relevant and resonant brand personality especially considering that the founder is no longer around to influence the brand.
The brand's future looks steady but not smooth sailing. Although the brand equity is strong, Jim Thompson needs to rethink its strategy in targeting different customer segments. As mentioned above, appreciation and sensitivity towards Jim Thompson's products are largely life-stage driven and target the more matured. In addition to this, the high-end fashion industry is going through a turbulent phase, which is characterized by cyclical demand and supply patterns, rapidly shifting consumer attitudes towards luxury and the gradual loss of "exclusivity" as a positioning platform. Jim Thompson will not be immune to these structural changes.
Brands that successfully withstand economic shakeups stay true to their core. Although Jim Thompson has recently started producing some innovative products, it needs to continuously invest in its core product portfolio, so that it stays relevant and appealing in current times.