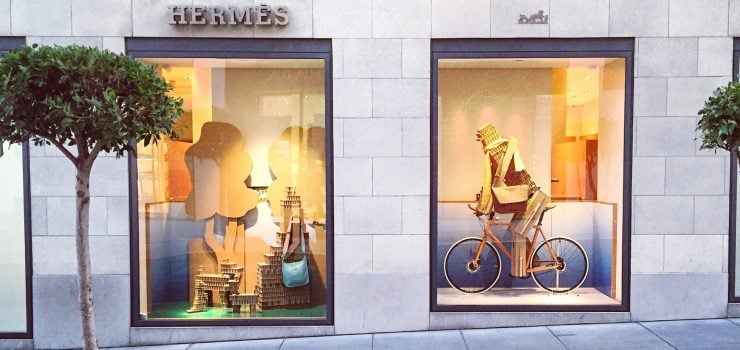 Hermès International, sometimes also referred to as Hermès of Paris or Hermes, is a French luxury goods manufacturer. It has been consistently ranked as the world's most valuable luxury brand in different valuation and ranking studies published by leading consultancies. Hermès as a brand enjoys an iconic status in the world of luxury. A combination of rich heritage, exquisite craftsmanship, eye for detail and high levels of quality and professionalism through the entire manufacturing process gives Hermès a position of superiority in the very competitive and ruthless world of luxury.
According to global brand valuation firm Interbrand, Hermès came in 28th amongst the Best Global Brands 2020. With a brand valuation of USD 18.0 billion, it trails behind Louis Vuitton, ranked 17th with a valuation of USD 31.7 billion.
Hermès is not a conglomerate in the real sense of the word and does not own a portfolio of brands like its key competitors, which include LVMH, Richemont and Kering. Currently, the range of products under the Hermès brand name includes leather goods, lifestyle accessories, furniture, fragrances, watches, jewelry, ready-to-wear and saddlery.
The leather goods and saddlery category is the biggest contributor to the company's revenues (50%), followed by ready-to-wear and accessories (23%), and silk and textiles (9%).
Background of Hermès
Thierry Hermès founded the company in 1837 as a harness workshop in Paris. Originally, his intent was to serve the needs of European noblemen by providing saddles, bridles and other leather riding gear. In the early 20th century, Thierry's son Charles-Émile Hermès moved the company's shop to 24 Rue Du Faubourg Saint-Honore in Paris, where it remains to this very day and is the company's global headquarters.
Gradually, the company's product offerings expanded through generations. Between 1880 and 1900, it started selling saddlery and introduced its product in retail stores. In 1900, the company started selling the "Haut à Courroies" bag, which was meant for riders to carry their saddles in it. In 1918, Hermès introduced the first leather golf jacket with zipper, made for the then Prince of Wales. In the 1920s, accessories and clothing were introduced into the portfolio. In 1922, the first leather handbags entered the product line. The brand's travel bags introduced in 1925 were a global success. In the 1930s, Hermès introduced products that have now entered the annals of fashion as icons – the leather Sac à dépêches (renamed as the "Kelly bag" after Grace Kelly) in 1935 and the Hermès carrés (scarves) in 1937. In 1949, the first Hermès silk tie and the first perfume 'Eau d' Hermès' were introduced.
In the 1930s, the company entered the United States with an initial tie-up with the Neiman Marcus department store in New York.
The company's iconic duc-carriage-with-horse logo and signature orange boxes were introduced in the 1950s. In the 1970s, the company established a watch subsidiary La Montre Hermès in Bienne, Switzerland. The company acquired tableware manufacturers like Puiforcat, Saint Louis and Perigord in the 1980s and consolidated its position in these segments of the luxury market.
The eye of the ultra-premium luxury segment, the "Birkin bag" was introduced in 1984, after a chance conversation between the then CEO Jean-Louis Dumas and actress and singer Jane Birkin on a flight from Paris to London, who articulated to Dumas that she needed a medium-sized bag. Each Birkin costs between USD 12,000 to USD 300,000 and is the exquisite handiwork of a single craftsman, who takes between 18 to 25 hours to complete the job via hand, more if the hide is a delicate crocodile skin. In 2014, an extremely rare Himalayan Nilo crocodile Birkin bag sold for USD 185,000, becoming the second most expensive bag to be sold at auction. Hermès is infamously known to burn imperfect Birkins, showcasing its dedication to the finest quality.
In 1993, the company went public on the Paris Bourse, which for various reasons was considered a strategic move with its own set of weaknesses. Throughout the late 1990s, Hermès extensively followed a strategy of reducing franchise stores, by buying them up, closing quite a significant many and by opening more company-operated stores. As of 2019, Hermès operates 311 stores globally, out of which 223 were directly owned and operated by the company.
In 1976, Hermès entered into an arrangement with British luxury shoemaker John Lobb, wherein it was allowed to use its name in return for extending the distribution reach of the brand. In 1999, in one of its first non-brand moves, Hermès bought a 35 percent stake in the Jean-Paul Gaultier fashion house.
Over a period of time, the company has extended its reputation by entering into strategic collaborations with specific players and also its suppliers in the ultra-luxury segment. These include:
Setting up a joint venture with Faubourg Italia, in which Hermès holds a 60 percent share, to extend reach into the premium home furnishings segment (upholstery fabrics and wallpapers)
Holding a 30 percent share in J3L, an old French supplier of metal parts to the company
Holding a 39.5 percent stake in Perrin & Fils, which is a specialist textile weaver in a variety of categories, which include lingerie, furnishing fabrics, ready-to-wear and accessories
Holding a 25 percent stake in Vaucher, which is a manufacturer and supplier of movement parts for high-end precision watches
Acquiring a 40 percent stake in Bettina, a long-standing partner of the company who specializes in production of twillaine
Today, the brand operates 311 stores globally across the U.S., Russia and Asia and has over 15,000 employees. It is one of the largest and most admired luxury makers in the world with revenues of over USD 8.3 billion and profits of over USD 1.8 billion as at 2019. The stellar performance of the brand throughout its 183-year history is largely credited to its drive for strategic consistency, combining excellent creativity with craftsmanship as well as an unrelenting focus on the long-term against short-term benefits.
Hermes' brand philosophy
The Hermès' brand philosophy can possibly be summarised by a single sentence quote from former CEO Jean-Louis Dumas – "We don't have a policy of image, we have a policy of product".
The brand philosophy is deeply entrenched in the platforms of "quality" and "refinement". It is for these very principles that the brand has always shunned mass production, manufacturing lines and outsourcing. According to Hermès, each and every product coming out under the brand's name should reflect the hard work put into it by the artisan. Till today, Creative Director Pierre-Alexis Dumas signs off on every single Hermès product before it leaves the workshop, showing the company's unwavering commitment to the highest quality. According to current CEO Axel Dumas, the main strength of the Hermès brand is the love for craftsmanship. This is further eschewed by Pierre-Alexis Dumas, who was quoted saying "I think Hermès objects are desirable because they reconnect people to their humanity… Our customer feels the presence of the person who crafted the object, while at the same time the object brings him back to his own sensitivity, because it gives him pleasure through his senses".
The most critical aspect is that these principles around the brand have remained firm in the company's evolution in its close to 183-year-old history. The ownership, management and leadership of the company have passed through multiple generations of the Hermès family, but the principles of the Hermès brand have never been diluted. All Hermès products are made almost entirely in France in workshops (Ateliers Hermès), which places a strong emphasis on quality. Also, Hermès' claims, in line with the comments from its CEO and Creative Director, that each product is entirely manufactured by hand by only one craftsman, signifies the quality of craftsmanship and uniqueness of its products. For example, its silk scarves are only made from silk produced by Hermès farms in Brazil.
The driving force behind the platforms of quality and uniqueness is the intense desire of Hermès as a company to remain exclusive. The aura of exclusivity is important for the company because it does not intend to portray the brand and its products as mass-market luxury or even premium luxury. The philosophy and aim has always been to remain "ultra-premium luxury", which can only be afforded by the very few and is not easily available.
In line with these brand philosophies, the company does not have a marketing department. The two core drivers of the company's business engine are intuition and creativity. It is claimed that everyone in Hermès is responsible for marketing.
Hermes' brand strategy
According to the company's annual report, Hermès products are split into the following categories – leather goods and saddlery, men's and women's ready-to-wear and accessories (including footwear, belts, gloves, hats, etc.), silks and textiles, fragrances, watches, and other products (including jewelry, furniture, home accessories and furnishing, tableware, and sporting accessories). The company's brand strategy is consistent across each and every one of these product categories in which it has a presence.
The strategy that the company follows and adopts ensures the aura of exclusivity remains tightly woven around its products. The Hermès strategy, as illustrated by the examples below, revolves around its 6 values: Spirit of conquest, creativity, craftsmanship, quality, authenticity, and independence:
Spirit of Conquest (entrepreneurship): Store managers are responsible for their own store collections and are offered the freedom of purchase to meet specific needs of their customers. Twice a year, 1,000 store representatives from its global stores come to Paris for an event called "Podium". Each flagship is instructed to pick at least one item from product categories beyond the common ones (handbags, scarves, ties, fragrances, watches), which is an attempt by the company to push every flagship store to showcase and sell complementary products. This adds to the allure of the Hermès brand as not all products are available in each store and the online store only offers a selection of the company's products.
Creativity: Every year, designers are provided with a theme to create their products and designs on. The theme for 2019 was "in the pursuit of dreams". In addition, collaborations with designers are a mainstay of the company's creative pillar, especially in the home furnishings category. The objective is for both the designer and the company to benefit from each other's creative collaborations and reputations.
Craftsmanship: There is a mandatory 2-year training for a craftsman before he or she can start working on putting together any leather product in the Hermès portfolio. This slows down production time but the company's philosophy has always been to maintain scarcity and exclusivity. Hermès' leather goods division hires only 200 craftsmen a year. This practice has been in place across the company's six generations of craftsmen.
Quality: Hermès has introduced "patience" as a very strong principle and element in its strategy to achieve the highest quality in its production. Customers cannot expect to walk into a store and walk out with a Birkin bag. Instead, one has to place an order and wait for a few months before it is ready. Instead of rationing high demand by price like normal economic law dictates, Hermès rations by queue. It is often debated by economists that the queue for Hermès bags creates surplus demand which overflows into other Hermès "consolation" products like wallets and belts. In addition, all new employees and artisans are carefully selected and go through a three-day in-house training session called "Inside the Orange Box" that traces the company's origins back to its founders and the history of development of each of its product categories. The objective of this training is to make every Hermès employee feel close, involved in, and identify with the company's culture, philosophy and values, hence demonstrating the company's dedication to the quality of its brand and legacy.
Authenticity: Hermès does not look at celebrity endorsements as a brand-building tactic and has actively stayed away from this form of marketing (a practice that is quite common in the LVMH brand stables). The very fact that only A-list celebrities and the ultra-wealthy can afford and get access to their most premium and exclusive products is an authentic endorsement of the brand. Hermès also does not follow strategies of launching region-specific collections or product offers, allowing the same product collections to be sold everywhere in the world. Additionally, Hermès has always been a significant proponent and user of the "limited edition" strategy and also limits distribution of its products in its stores, demonstrating its commitment to showcasing only the most authentic products. Hermès products are also never offered on discounts.
Independence: Hermès has always asserted its independence in its shareholding structure and family ownership. By doing so, it is able to retain most of its production within France and serve its long-term vision.
Former CEO Patrick Thomas, only the second individual outside the Hermès family to have run the company, once commented, "The luxury industry is built on a paradox: the more desirable the brand becomes, the more it sells but the more it sells, the less desirable it becomes". His comment entirely encapsulates the strategy of exclusivity and scarcity that Hermès follows for its brand.
Hermès also follows a continued tradition of innovation in the ultra-luxury segment. From its early years of inception to the most recent times, the company manufactures and launches exclusive products that increases the allure of the brand and strengthens its position as an object of significant desire among its ultra-rich customer base. During the 1970s, new materials like polyester and plastic started to be in fashion, which prompted Hermès to develop new items in a bid to win over consumers. In 1979, a French advertising campaign featured a young lady with a Hermès scarf, which sparked huge global interest in the company's scarves that lasts till today. By the 1990s, Hermès was offering over 30,000 products.
In 2014, the company's new launches across different product categories included the Oxer bag, the Nautilus pen, the Faubourg watch, the Third Haute Bijouterie collection, the La Parfum de la Maison, the H-Deco tea and dessert service and the Lighting collection. In 2015, continuing with its tradition of offering something new and expanding the definition of luxury, Hermès collaborated with Apple in a new collection called Apple Watch Hermès. The new collection has been categorised as a true collaborative effort with each watch engraved with the Hermès signature, typeface customizable to the famous Hermès orange and its three exclusive dials paying respect to Hermès' watch face designs. It also launched a new menswear website called Le MANifeste d'Hermès, which aims to act as a guide for men's styling needs. This website has been termed by GQ magazine as having the ability to revolutionize e-commerce.
In 2016, Hermès launched its first Hermès Innovation Lab in Leeds, Yorkshire UK to implement emerging technologies including self-tracking parcels and intelligent delivery using location-based services. In 2020, it launched its second Innovation Lab in its New York store, fully constructed from sustainable materials and showcasing its efforts in sustainable design, including a wooden iteration of the iconic Kelly Bag.
Hermès regularly goes back to its roots when it needs to find inspiration for creating and launching new products. "Heritage" is one of the strongest differentiators of the core brand identity of Hermès. The following recent examples illustrate this process beautifully:
The Ring bag created in 1958 inspired the new Icon belt, which was launched in 2014. Along similar lines, the Piano belt (launched in 2014) is a re-edition of the 1954 model but with a more retro look. This rich source of inspiration comes from the Hermès Conservatory of Creations, which is an internal museum that stores every model created by the company for each product collection
Creations across product categories also regularly come together in new product offerings. In 2014, a piece of jewelry called the Mini-Dog buckle became a part of the Irving moccasin shoe
Existing classics are also extended into new product lines. In 2014, two classic scarves (Ex-libris and Peuple du vent) were extended to cowgirl bandana sizes to emulate the great American West tradition
In jewelry, the newly launched Sangles Hermès line seeks to honor the company's legacy horse harness making traditions and jewelry know-how in chain making
This intense focus on innovation within the company has also resulted in Hermès discovering new avenues for brand growth and for widening the brand's influence in the ultra-luxury segment. A very relevant example is the new project titled as "Petit H". The word immediately brings out connotations of "mini" versions of Hermès products, but in reality it is something different altogether. Hermès Petit H is the company's endeavor to encourage "luxurious recycling" of raw materials that are leftovers of building Hermès products. The project is now taken shape as a new product category within Hermès, also referred to as a new "atelier". Leftovers of manufacturing process of other products are now being crafted into unique and ultra-luxurious products under the Hermès Petit H collection.
Products created via the Petit H initiative travel around the world and are put up for temporary sale in different stores. For example, in 2014, the Petit H collection was available for sale in one store in California and one in Taiwan.
In 2015, Hermès announced that it would focus on exploring and wandering, and reflect these experiences in its brand. It opened the Wanderland exhibition that ran in London, with the exhibition moving on to Paris, Turin and China. The theme of these exhibition is flânerie, which is defined as wandering the city streets and absorbing the details of everyday life. The Wanderland exhibitions have multiple floors with bizarre themed rooms that contain exhibits from the Hermès archive.
Hermès has a huge, expanding and profitable service category of working towards bespoke requests of ultra-rich individuals. The work under this category is done through the Hermès Horizons brand name. Essentially, the deliverables revolve around specific bespoke requests of creating an object from scratch, sheathing an object from an existing Hermès collection or entire fittings or upholstery work for cars, planes and yachts. This is a clever strategy of extending the visibility and influence of the brand and also entrenching it in the lifestyle of the rich and famous.
Another very strong and distinctive element of Hermès brand strategy is the concept of collaboration. In the continuation of a strategy that was adopted by the first generation of the founding family, Hermès regularly invites artists (carefully selected by senior Hermès artistic directors) to design iconic products in the company's portfolio. The collaborations that are done for the iconic scarf are under the brand name of Hermès Editeur, which in simple words stands for special editions of the Hermès scarf. Collaborations are not limited only to scarfs but also occur in other product categories and within portfolios.
The company's collaborations with brands outside the Hermès brand portfolio are consistently in the ultra-luxury space – John Lobb shoes and boots, Puiforcat tableware and dinnerware and Saint Louis glassware. In 2010, Hermès partnered with Bugatti Veyron to create the Bugatti Veyron Fbg par Hermès sports car which was completely outfitted with leather by the skilled leather artisans of Hermès. At USD 2.1 million, it was one of the most expensive cars in the world. In 2011, it also partnered with Eurocopter to design a USD 8 million helicopter.
The overall structure and positioning of the product portfolio under the Hermès brand name is a classical umbrella branding strategy. Even though every one of the products in all the categories have distinctive names, the overall Hermès name forms the core of all marketing and communication strategies. The only product that can arguably stand on its own without the Hermès name endorsement is the eponymous Birkin bag. The key strategic element of Hermès brand strategy is to maintain the aura of exclusivity and scarcity.
Hermes' family business strategy
As one of most prolific family businesses in the luxury sector, it is no easy feat for Hermès to have reined successful across 6 generations since 1837:
First generation owner and founder Thierry Hermès built a strong reputation for the company as a high-quality saddlery maker using the functional and decorative "saddle stitch"
Second generation owner: In the 1870s, Thierry passed on the business to his son Emile-Charles Hermès, who moved the business to the rue du Faubourg St. Honoré
Third generation owner: In 1922, Emile-Charles sold his stake to his son, Emile-Maurice Hermès, who began to diversify into travel- and sport-related leather goods and launched ready-to-wear clothing, watches and gloves
Fourth generation owner: In the 1930s, Emile-Maurice passed the family business on to his son-in-law, Robert Dumas, who produced the first Hermès scarf
Fifth generation owner: In 1978, the company was succeeded by Robert Dumas' fourth son Jean-Louis Dumas after his death. With experience working as a buyer for competitors, Jean-Louis Dumas transformed the business into an international luxury retailer, making the company public in 1993 and turning annual revenues from USD 82 million to USD 2 billion
Sixth generation owner: In 2010, Jean-Louis Dumas handed over the reins to his son and current Creative Director Pierre-Alexis Dumas, after his death. Jean-Louis Dumas' nephew, Axel Dumas was appointed as CEO in 2014.
The long-term success of family firms is not a given. Complexities arise when ownership, management and family roles overlap, which is a unique characteristic of family businesses. Some of the defining characteristics which have contributed to Hermès' success across six generations include:
Strong family ownership: The Hermès' family business is run on the principle of a democratic monarchy, which means that leadership and management is closely tied to the family body with board of directors composed mostly of family members across the 3 lines (Dumas, Puech, Guerrand). To keep ownership and influence within the family, a 75% majority is also required to change the company statutes or the CEO.
Strong values: The family believes that the family has obligations which are part of the family culture and ethic. Some of its values include respect for people and nature, and respect for new ideas, which spurs its culture of innovation.
Strong family pride: All family members who work in Hermès have a very strong identification and pride with the brand, with a remarkable dedication to quality and giving his or her best to preserve the family heritage. Additionally, all members of the next generation are immersed in the company from a young age through organized tours to subsidiaries and suppliers.
Strong financial structure: For Hermès, going public increased the company's' financial stability while still enabling a strong family influence. In addition, it adheres to the principle of self-financing, resulting in a 15% profit reinvestment back into the company annually.
Hermès brand communication
Brand communication and marketing strategies of Hermès always remain consistent with the principles of "heritage" and "exclusivity" of the company. Marketing campaigns celebrate the Hermès lifestyle and do not aim to directly sell products from the various ateliers. The company also sponsors events that have a direct fit with the image and the legacy of the company. In addition to these, Hermès uses strategic collaborations with independent artists and designers to raise visibility of its products. The primary aim of collaborations is to strengthen the aura of exclusivity around specific product portfolios. This is done through the classic "limited edition" strategy, but in the case of Hermès, it puts a higher degree of exclusivity to the portfolio, because Hermès products in themselves are exclusive.
In sync with the company's heritage and association with horses (and the fact that the company was founded as a saddlery manufacturer), Hermès sponsors lots of horse racing events around the world. In the beginning of 2014, it became the official sponsor of the US Show Jumping Team. The company's flagship event in the equestrian world is the annual Saut Hermès show-jumping competition held in Paris. Hermès has been organizing and managing this event on its own since 2010 and uses it as an avenue to showcase its fine leather products and its longstanding association with horses. It is also a visibility-generating avenue for Hermès among the very affluent audience of such events.
In terms of marketing and communication, Hermès is considered to be a very innovative organization. In Forbes 2014 List of 100 Most Innovative Companies, Hermès came in at number 13. In the Forbes 2020 List, it dropped to number 29, but was the only luxury brand in the Top 30. It has been using content marketing and social media platforms in a highly engaging manner in all its marketing and communication campaigns.
A very recent example is the online pop-up virtual store dedicated to the brand's silk squares, shawls, twills, scarves and stoles. Created in partnership with AKQA, lamaisondescarres.com resembles a grand house with intricate interiors, diverse characters and creatures. The website allows visitors to explore different rooms of the virtual house, which contains more than 600 models of Hermès signature silks, all of which can be clicked and purchased.
Hermès has shown ingenuity in leveraging the power of social media. There are two apps it has developed – one is called Silk Knots, which essentially is a how-to-guide that teaches how to tie the brand's scarves in 24 different ways. The second one is called Parcel Manager, which provides online shoppers with increased visibility over their shipments, and more choice and control over how they receive their parcels.
It invests significantly on TV, print, online video and online visuals to promote different collections at different times of the year. It also invests selectively in mobile advertising to target affluent readers of different publications that carries its print ads. It is also known to use humour and comical situations in its advertising, which are clever ways of showcasing its products. In 2014, it released an online video ad campaign that used comical handshakes to showcase its 2014 gloves collection. Previously, it marketed its racetrack inspired porcelain tableware line Rallye 24 by integrating the line into an online game.
The legendary "Hermès windows" have always been a very strong visual and larger-than-life platform for showcasing the brand's exquisite styling and craftsmanship heritage. The windows pop up at periodic intervals at different Hermès stores globally. The windows are considered to be the company's homage to its craftsmen. According to Pierre-Alexis Dumas, the Hermès windows are like a portal into the culture of the company. Dumas is proud to have Leïla Menchari, the brand's longstanding window designer from 1978 – 2013 design window art for the brand. During these 35 years, 136 elaborate fantasies were created with products designed specifically for the windows, of which nothing in the window was for sale. The windows are also considered to be the original progenitors of the art of communication developed within the company, a "small theatre where each role must be played well".
Hermes' Challenges
Continuous takeover interest from LVMH: The biggest challenge that Hermès has faced to its independent existence is the continued interest of rival luxury fashion house LVMH in its fortunes. LVMH quietly built up a stake of 17 percent in Hermès between 2002 and 2010. This led to a highly acrimonious and long legal dispute between the conglomerate and Hermès. As a result, LVMH had to pay a fine of USD 11 million and sell down its 23% stake to 8.5% for flouting public disclosure requirements. By 2017, LVMH had sold most of its shares in Hermès in order to take complete ownership of luxury brand Christian Dior. As a company, Hermès has fiercely protected the company's integrity and independence from this continual threat from LVMH, as seen from its setting up of a private holding company which has the first right of refusal when a family member decides to sell shares – ending any possibility of a takeover from LVMH.
In 2011, more than 50 descendants of Thierry Hermès pooled their shares into a co-operative called H51, which was valued at USD 16 billion. These descendants, who in total held 50.2 percent of company's shares, contractually agreed not to sell any shares for the next two decades. Additionally, two fifth generation family members, Bertrand Puech and Nicolas Puech, kept their shares outside the co-operative but also held out against LVMH, by granting other family members the right of first refusal if they ever decided to sell their shares. This collaborative, cohesive and united stand taken by the family members signify the importance they place on Hermès remaining and operating independently (the Hermès share value rose by 30 percent during the time LVMH was quietly accumulating shares).
Succeeding in China: Like any other luxury player, Hermès takes the opportunity that China presents very seriously. But, unlike others, it has adopted a very patient approach towards targeting the luxury market in China. Although it entered China in 1997 and quickly grew its network to 28 stores covering 19 Chinese cities, the company has taken a carefully considered decision of not opening more than one store per year from 2015.
Hermès strategy for China is innovative but also risky. It plans to use its new stores to put forward the whole Hermès brand experience in front of the Chinese consumer. The latest flagship store that opened in Shanghai in 2014 (Hermès maison) is designed like a house, has craftsmen situated on different floors actually creating products and has a museum like feel to showcase the brand's rich legacy. In addition to retail level experiences, the company is trying to forge a link with China's rich tradition of craftsmanship to increase the brand's appeal in the country. The adopted strategy is built on the principles of patience that is required for craftsmen to manufacture exquisite products, and is diametrically opposite to the fast-paced, quick gratification and shopping mall driven culture that exists in Asia.
The strategy is risky from the point of view of accessibility and exposure to the products and brands from rival fashion conglomerates (LVMH, Kering and Richemont). Also, the Chinese luxury consumer is extremely well travelled and is regularly exposed to global luxury trends. In that sense, they are used to and are one step ahead of luxury offerings in their country. To instill a sense of patience and appreciation for the aura of exclusivity and scarcity can be a challenging task for Hermès.
But, the company has also adopted an interesting parallel strategy to expand its thinking and philosophy behind luxury manufacturing and marketing in China. In 2012, it put its brand and marketing muscle behind the launch of Shang Xia, its Chinese luxury brand. Jiang Qiong'er, Shang Xia's founder, strongly believes in the tradition of Chinese craftsmanship. This was the key connection between her and the then Hermès CEO Patrick Thomas, which eventually led to the collaboration and the launch in China. But Hermès has been careful in not allowing the Shang Xia brand to dilute its own brand identity in China. Current CEO Axel Dumas has been quoted as describing Shang Xia as a "small baby". Even for Shang Xia, Hermès has adopted a longer watching strategy, with the brand expected to generate profits only in 2016.
Another advantage that Hermès has in China is the subdued, underplayed and highly exclusive positioning of its brand and the products. This matches seamlessly with the current government-led crackdown on ostentatious display of wealth, bling and logos. The Hermès brand, due to its tradition and strategy of carefully controlling distribution, no overt displays of any logos and the complete absence of any form of celebrity endorsement, is well placed to appeal to the changing definitions and perceptions of luxury among the Chinese consumer.
But again, preferences and needs for luxury can quickly shift among Chinese consumers. Hermès strategy of introducing "patience" as an element in the acquisition of its products, can either work for or against the company's fortunes in one of the world's biggest luxury markets.
Strengthening the Hermès brand equity beyond leather and silk: Hermès as a brand is known for its heritage, craftsmanship and exclusivity in the domain of ultra-luxury leather and silk products. Although the Hermès brand exists and offers products beyond leather and silk, the brand equity in some of these other product categories is not that strong.
A relevant example would be of the watchmaking division – La Montre Hermès, with a 90-year brand history. According to the watchmaking divisions' newly appointed CEO Guillaume de Seynes, the division is a small métier with great potential. In his own words, there are two potential definitions of the watchmaking division's success – "qualitative growth we can be proud of and in which we are both Hermès and watchmaker" and "the day when clients unhesitatingly compare Hermès with big established watchmaking brands, we will have succeeded". The fact that it is going to be a slow journey for the watchmaking division to establish itself is reflected in its sales history up to date. In 2019, the division contributed just 3 percent of the brand's total revenue.
The same can be said about some of the other product categories in which Hermès has a presence. Although categories like perfumes and jewelry are growing in terms of sales and revenue contribution to the overall Hermès portfolio, they are yet to reach the levels of the leather and saddlery products division success. Diversification is an important strategy for a luxury house to hedge against cyclical downturns in specific categories, fluctuating consumer demand, wider economic, social and political factors and shifting consumer needs and preferences. The challenge for Hermès in adopting and implementing a diversification strategy is the inherent nature of its exclusivity-marketing model.
In addition, it has been 36 years since Hermès had launched the iconic Birkin bag. It is a question of whether the brand can launch yet another similar iconic bag, in order to preserve exclusivity and mystique over the Birkin and to sustain brand ardour amongst its fans.
From a luxury house's perspective, decline in demand for specific product categories should be mitigated by upturns in other product categories. Limiting distribution and adopting a model of scarcity can work against this. In the case of Hermès, this is especially true for categories like accessories, watchmaking and men's and women's wear. Hermès need to be selective about the marketing model it adopts across different product categories.
Conclusion: The Hermès brand is and will continue to be ultra-luxury
Hermès is an ultra-luxury success story, without any doubt. With limited distribution, exclusivity and controlled marketing, the overall company and many of its product categories have regularly registered double-digit growth rates year-on-year. This is a true reflection of the Hermès brand strength among the highly affluent segments of the global population. The company has successfully kept alive and strengthened a brand differentiated through strong history, exquisite craftsmanship and superior quality. The fact that it is considered to be the most innovative among all the luxury fashion houses is a testament to the company's commitment to constantly manufacture and launch ultra-luxury products that are unique, have a strong sense of allure and have a distinct mark of superior craftsmanship.
The company's future looks secure in the hands of a committed and disciplined group of family scions, but it needs to constantly evolve and differentiate to maintain its superior position in the ultra-luxury segment of the market through leveraging the power of its family brand as an icon of legacy, authenticity and prestige.
Follow Martin Roll on LinkedIn >>
Insights link
About the author: Martin Roll – Business & Brand Strategist
Read more: Insights & articles
Read about Kering: Kering – Evolution of a Global Luxury Brand Company
Read about Shang Xia: Shang Xia – Chinese Luxury Fashion Brand With A French Soul
Read about luxury brands: Next Frontier For Luxury Brands