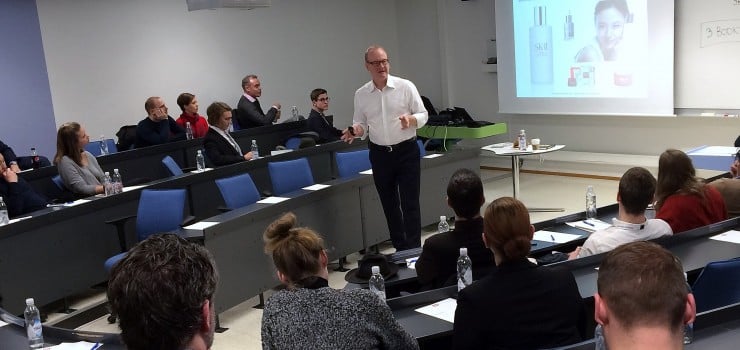 Martin Roll delivered a keynote speak on 9 Feb 2016 at BI Norwegian Business School in Oslo, Norway about how to build an iconic brand. The session was attended by undergraduate and Master students.
BI Norwegian Business School is one of the leading independent, not-for-profit higher education institutions and the main provider of research-based knowledge on business and management disciplines in Norway. A Triple Crown-accredited school (EQUIS, AACSB, AMBA), BI offers business education programs from undergraduate level to postgraduate levels – this includes BBAs to Master programs – churning out 1 in 4 of the country's business leaders.
Martin Roll kicked off the keynote speak with a powerful quote by fashion designer and billionaire Ralph Lauren: "I don't design clothes. I design dreams". A combination of rich American heritage, exquisite craftsmanship, eye for detail and high quality, Ralph Lauren has forged a unique identity in the very competitive and ever-changing world of fashion and lifestyle.
Characteristics of a strong brand
Martin Roll explained that before starting on the journey to build an iconic brand, one needs to understand what characterizes a strong brand:
A brand drives shareholder value
The brand is led by the boardroom and managed by brand marketers
The brand is a fully integrated part of the entire organization, aligned around multiple touch points
The brand can be valued in financial terms and should be treated as an asset in the balance sheet
The brand can be used as collateral for financial loans and can be bought and sold as assets
Customers are willing to pay a substantial and consistent price premium for the brand
Customers associate themselves strongly with the brand, its attributes, values and personality
10 key drivers to build an iconic global brand
Martin Roll also explained the 10 key drivers that brand owners can adhere to in their strive to build admired and profitable global brands:
Global brands are driven by a strong purpose
Global brands provide strong financial results
The CEO leads the brand but everyone remains involved
Strong brands drive constant innovation
Global brands are customer centric
Global brands have excellent insights and intelligence processes
Technology is a key business enabler
Business performance and brand equity are measured
Strong culture brings iconic global brands to life
Global brands drive constant change
The importance of being purpose-driven
Traditionally, businesses used to only analyze the market and determine an offering. Today, that alone is insufficient. Companies that want to succeed in on the global stage need to also establish a purpose – a clear view of what it will bring to the world, why it matters, how it will deliver on that promise, and whether it is doing enough to create what it set out to deliver. This means creating clarity of the brand's core mission, defining a shared vision and leading relentless execution of the brand strategy.
Nonetheless, achieving the above is not a position that comes easily. It requires full attention and hard work over a long period of time and attention to every detail. LEGO's turnaround towards becoming the most valuable global toy brand is a good example. Through the late 1990s and early 2000s, LEGO's attempts to combat the rise of video games by becoming a lifestyle brand caused it to become over-diversified and near bankrupt. By going "back to the brick", refocusing on core LEGO products, and divesting non-essential business units, the company began its return to profitability and valuable brand equity.
Impact of strong brands on performance
It is important for a company to establish a profitable customer loop. First, it needs to identify ways to acquire and retain valuable customers. Second, it needs to eliminate non-valuable customers – this means to focus on only the customers the brand wants to target. Third, the company needs to up-sell its higher value products and cross-sell relevant products to customers. Next, it needs to offer word-of-mouth and referral benefits, thus converting customer purchase into customer loyalty. Finally, but not least, it needs to reduce the cost of service to customers. This means to find the most cost-efficient way to service a brand's customers.
Once a company is able to achieve this, it can then re-focus its efforts to start again at the beginning of the customer loop.
Strong brands are able to do the above consistently across a period of time and can provide better-than-average KPIs. Some of the positive impacts that strong brands can have on performance are:
Improved customer profitability: An increase of 5% in loyal customers can deliver 95% greater profitability in customer lifetime value
Increased price premium: 50% of customers would pay 20-25% price premium to a brand they are loyal to before they would switch
Reduced acquisition costs: It takes 7-10 times the cost and effort to gain a new customer compared to keeping an existing customer
Improved cross-selling: 50% of customers are willing to try new products and services from a preferred brand (credibility and trust)
Reduced recruitment costs: A clear brand leads to employee pride, increases retention and help attracting the best candidates
A new paradigm for brands
It is inevitable that marketing and brands are becoming essential strategic drivers of businesses especially those that want to create an iconic brand and leave a legacy. As such, business leaders will need to shift their mindset from being focused on low-price to a mindset of branding, value, purpose and performance. Only when this is led from the top will businesses start to unleash their potential towards building iconic global brands.
Insights link
About the author: Martin Roll – Business & Brand Strategist
Download summary PDF: Martin Roll Speaks At BI Norwegian Business School About Building Iconic Brands
Read more: Insights & Articles