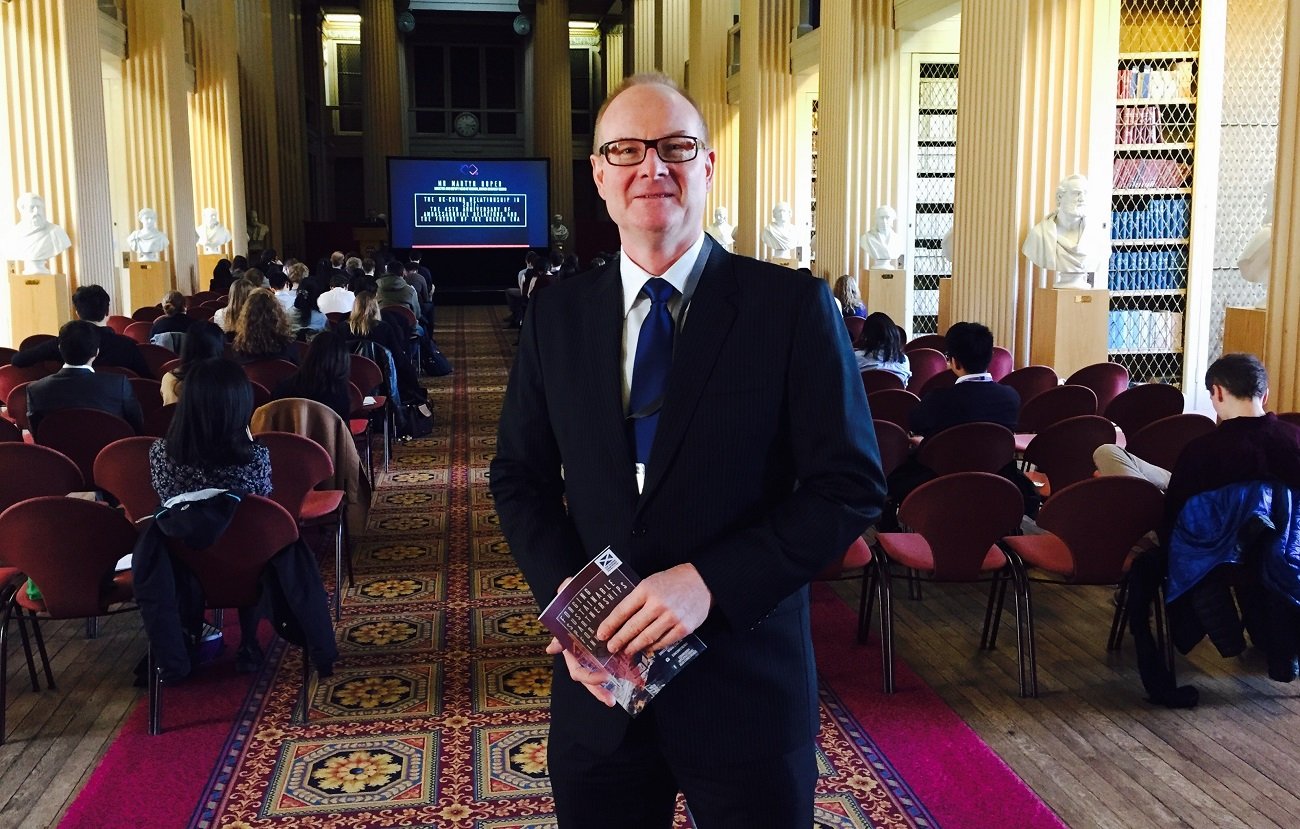 On 6 March 2017, Martin Roll delivered a keynote speak at the Edinburgh International Asia Conference (EIAC) 2017 at the University of Edinburgh, on the topic of "Global Branding – A Fresh Perspective from Asia".
The EIAC was founded in 2015 with the aim of providing a source of knowledge and expertise for students and professionals in Scotland with an interest in living or working in Asia. Held annually, the conference aims to provide students with the network, skills and opportunities to serve as the next generation of global thought leaders. A number of esteemed business leaders around the world were invited as guest speakers to the conference, to speak on the theme of "Forging Sustainable Partnerships For Innovation". During the session, Martin Roll discussed what Asian brands and business executives need to do to succeed in the global business landscape.
Martin Roll opened up the keynote with a powerful quote by management professor Peter Drucker, "Wherever you see a successful business, someone once made a courageous decision". Mentioning the importance of a strong brand in differentiating global companies from local or regional ones, Martin Roll highlights that a winning brand formula is made up equally of both the organization's performance as well as stakeholder perception.
Strategic challenges faced by Asian brands
Asia is still one of the world's biggest providers of commodities and many manufacturers still mostly produce non-branded goods for resale by other companies. In other words, these are volume products without personalities, values and distinct faces. Creating and implementing global brand marketing strategies are inevitable for tomorrow's successful Asian companies in order to capture a larger part of the financial value and enhance profit streams. Some of the strategic challenges that Asian companies have faced in trying to move up the value chain are:
Trading mindset: Despite Asia's rapid economic growth and integration with the global economy, the business mindset is still predominantly driven by short term sales and turnover. Managers in Asian firms are more comfortable investing in tangible assets than in intangibles such as brands and innovation. Although such an orientation has facilitated many Asian economies to achieve scale and scope economies in manufacturing sectors in the early part of Asian resurgence, this very orientation acts as a major deterrent in Asia's current stride to build strong brands.
Focus on the short-term: A conservative mind-set focused on the tangible, the short-term and the risk-minimizing aspects of business has manifested in branding being relegated to an optional, tactical tool of marketing departments. As such, Asian companies have not fully realized the strategic role of branding and the role of corporate management in instilling branding as an organization-wide discipline.
Diversification of businesses: The origin of many Asian businesses can be traced back to their founding families. Unlike in many advanced Western economies where founding families often gradually dilute their stake in the businesses and evolve into a mixed owner-structure, Asian economies still are dominated by family owned/controlled firms. Given the huge stakes of family wealth in these companies, the conventional wisdom for a long time has been to minimize risk by diversifying.
3 essential ingredients for a brand-driven company
Before a company can build a strong global brand, 3 essential ingredients need to be present within the DNA of the organization:
Innovation as a part of corporate strategy: A strong brand thrives only on a good product or service. The holy grail of an effective product strategy is to anticipate what consumers need before they realize they need it. In a world of abundant choice, branding is used to guide consumers through a dizzying array of alternatives. True innovation can be the most powerful differentiator of all, allowing product development to be more in tune with customer needs, hence enabling sustainable competitive advantage in branding.
Inculcate an internal branding culture: One of the most strategic routes for organizations when beginning their branding journey is to inculcate branding into the core culture of the organization. Developing a strong internal brand culture wherein all corporate activities are centered on the core brand promise enables companies to develop their positioning and communication strategies in a manner that effectively highlights the brand promise, brand essence and brand identity.
Develop a leadership pipeline: It is also essential for companies and their top management to instill a well-structured system that develops internal leadership pipeline. Without formal succession plans, even the most iconic companies can meet with devastating effects. Since the CEO is integral in representing the brand to both external and internal stakeholders, organizations must invest in developing top leaders that understand the strategic charter of the brand and enable the brand's further development and growth.
Strong brands balance brand promise and delivery
Moving on to execution, Martin Roll emphasizes that strong brands have two basic components: a brand promise and brand delivery. Brand promise consists of the brand's essence, identity and position. Brand delivery revolves around the brand attributes, benefits and values. It is essential that both brand promise and brand delivery are equally balanced and leveraged, with uniqueness and differentiation as key drivers.
According to Martin Roll, Singapore Airlines is one of the most iconic Asian brands with technology and service as its key drivers. It is a great example of how the brand promise and brand delivery has been well-balanced and managed since the airlines' inauguration in 1972 in Singapore. The brand promise of "A Great Way to Fly" with its emphasis on service and technology excellence has long served the airline very well and has been consistently communicated since the start.
In addition, Singapore Airlines runs one of the most comprehensive and rigorous recruitment and training programs for cabin and flight crew in the industry to make sure the SIA brand experience is fully and consistently delivered. The training program for new crew is 15 weeks long – twice the length of the typical programs in the industry. This has resulted in numerous awards and recognition for its service excellence and well-trained staff at all levels.
Furthermore, for a brand to successfully deliver on their brand promise, it is imperative for it to identify and nurture talent who are self-motivated and creative, and who are able to go the extra mile to deliver great customer experience.
Successful Global Asian Brands
In his keynote, Martin Roll gave some several examples of Asian brands which have managed to achieve a breakthrough in the global business landscape. For example, Korean beauty company Amorepacific is on the way to becoming a global Korean beauty company with a brand portfolio competing on innovation, quality, marketing and authentic Korean cool. Similar to how Paris and New York are symbolic capitals of beauty, so much of Amorepacific's brand equity as they expand worldwide is due to its country of origin, as Korea is now perceived by Asian women to be the model for Asian beauty. One of its most popular brands is Laneige, which is positioned as a premium cosmetic brand.
Another example of a successfully globalized Asian company that Martin Roll discussed is Jim Thompson, the Thai Silk Company originating from Thailand. The brand, built on a strong myth with a modern twist, is primarily built on 3 pillars: the legend surrounding the founder Jim Thompson; the unique blend of Thai tradition and heritage with western contemporary designs; and the elevation of the brand from a cottage industry product to a fashion and lifestyle concept. By developing the brand on these three pillars, Jim Thompson has been able to maintain its differentiation and build a strong brand. It is perceived to be highly authentic, to have high quality and a strong heritage.
Huawei is another successful Asian brand which has managed to overcome the challenge of its country of origin. Over the past two decades, Made in China has often been seen as low-cost and low-quality. Huawei has worked hard in producing high quality products and has succeeded in overcoming negative or skeptical perceptions related to the Chinese country of origin. It is currently the world's second-biggest maker of routers and telecommunications equipment, after Sweden's Ericsson.
Originating from Japan, global fashion brand Uniqlo has succeeded through embedding innovation into its corporate strategy. One of its signature innovations is HeatTech, a fabric it developed together with a material science firm, which turns moisture into heat and has air pockets in the fabric to retain that heat. AIRism is also a light, breathable fabric it invented and uses to make its inner-wear and t-shirts for greater cool and comfort. It brands all of its innovations, which makes it extremely difficult for competitors to match their point of differentiation.
The 10 key drivers of excellence for an Asian brand to grow globally
Martin Roll summed up his keynote speak with the 10 key drivers of excellence essential for any Asian brand wanting to succeed in building a global brand:
Global brands must be driven by a strong purpose
Global brands must provide strong financial results
The brand is led by the CEO but everyone remains involved
Strong global brands drive constant innovation
Global brands are customer-centric
Global brands exhibit excellence in insights and technology
Technology is a key business enabler of global brands
Business performance and brand equity of global brands are measured
Global brands are brought to life by a strong culture
Global brands drive constant change
The keynote speak by Martin Roll was followed by a video interview session by the conference organizing team.
Insights link
Download PDF: Global Branding – A Fresh Perspective from Asia – Martin Roll
Download PDF: Asian Brand Strategy (Sample chapter) – Martin Roll