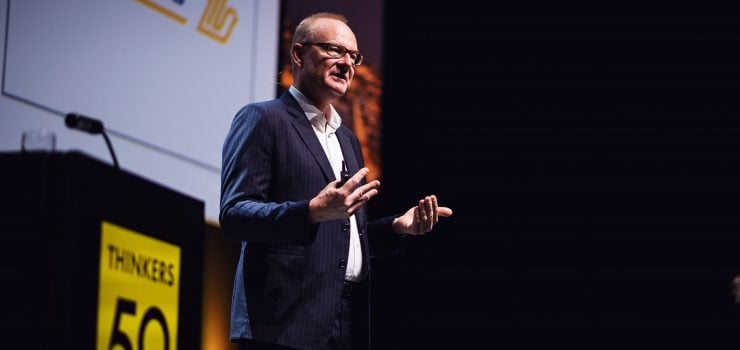 Martin Roll was invited to speak at the Thinkers50 European Business Forum from 25-26 September 2019 held in Odense, Denmark. Also known as Thinkers50 Europe, it is an annual two-day event bringing together leading business thinkers and top leaders in Denmark, serving as a center for the development of new business insights.
The theme for the Thinkers50 Europe 2019 was Learn from Asia. In 2019, Asia is the most inspiring continent in terms of business strategy, innovation, and leadership models. India and China are now two of the world's largest economies, and Singapore is now the world's best place in which to do business. The Asian Tiger economies of Hong Kong, Taiwan, and South Korea continue to roar and inspire others to do so, and Asia today has the strongest economic outlook of any region in the world, according to an IMF report. McKinsey & Company has pushed strongly their research and thought-leader series "The Future is Asia".
The event sought to highlight the success of Asia, uncover how Europe can learn from Asia in terms of their leadership and business models, prepare European businesses for upcoming challenges, and find new ways to engage Asian customers and businesses. It was attended by CEOs, public and private sector leaders from countries such as Germany, Sweden, England, Spain, Turkey, The United States and many more.
Previous forums held in 2017 and 2018 have included speakers such as Michael E. Porter, Roger Martin, Rita McGrath, Matt Brittin, Lars Rebien Sørensen, and many more.
Alongside the world's most successful visionary business thinkers including Jean-François Manzoni (Nestlé Professor at IMD), Erin Meyer (INSEAD Professor) and Tendayi Viki (Associate Partner at Strategyzer) from America, Asia, Europe and Africa, Martin Roll delivered a speak entitled Winning in The New World: Journey from Europe to Asia, which discussed his own journey from a life in advertising and journalism into management consulting and with Asia as his primary base for his global activities.
Martin Roll's global journey with a difference
Martin Roll started his speech by explaining his move to Asia. Initially, he was a professional photographer and also worked in broadcast journalism. His career then switched to international advertising, where he worked at Ted Bates (later Bates) serving Swedish client Ericsson on their corporate brand as well as their global mobile accounts.
In 1995, Martin moved to DDB Needham (later DDB) and for the next four years he was the client lead for McDonald's in Denmark. He then went on to do his MBA at INSEAD Business School in 1999 which was a complete game changer for his career trajectory and focus. His newfound interest in Asian business, made him decide to take the plunge to establish Martin Roll Company in Singapore in 2001 where he would serve as a management advisor to a comprehensive client base.
In 2005, he published the global best-seller Asian Brand Strategy and started to be invited to speak in front of management audiences at leading global business schools and international CEO forums. He also served as a Senior Advisor to McKinsey & Company.
Martin Roll has not looked back since as today, he delivers the combined value of an experienced global business strategist, senior advisor and facilitator to Fortune 500 companies, Asian firms and global family-owned businesses on how to build and manage strong, global brands. He has become a world-renowned business speaker and is in constant demand at some of the most global influential business conferences worldwide.
Asian Brand Strategy: A New Paradigm for Boardrooms
The face of business in Asia is changing faster than one can blink one's eyes. Asian companies that used to be back-end workhorses, manufacturing consumer goods cheaply for Western companies, are slowly realizing the benefits of branding. While many traditional Asian businesses still view branding as advertising and logo design, more Asian brands have realized that the primary objective of boardrooms is to build and sustain shareholder value, and deliver competitive returns to shareholders. One of the most effective ways to achieve this is to build brands with strong brand equity.
One example of an Asian brand which has realized the benefits of branding is TWG Tea. Where tea drinking is ubiquitous across Asia, TWG Tea was the first to have captured the void in the market by being the first luxury tea brand in the world. It has created a perception of being a connoisseur in consumers' eyes by harvesting the highest quality teas, building an impressive product range and creating an unparalleled in-store experience.
Singapore Airlines is another example of a world-class Asian brand that delivers on great service excellence, quality in all aspects of operations and dedication to customer experiences.
The Future is Asia
Many other factors have led to the world taking notice of Asia – cultural phenomenon known as Hallyu (The Korean wave) has taken Asia and the world by storm.
The Korean skincare and cosmetics company Amorepacific has become very successful and it taking the region and the world by storm. They have decided to differentiate and dare to be aspirational. The company has successfully grown from their core Korean roots towards delivering global consumer appeal.
Totaling all the recent changes in Asia, a few important insights can be drawn:
Asia will be the future global leader: Asia will outperform the rest of the world towards 2050. With an expanding younger population, a rising middle class projected to comprise 66% of the global population by 2030, and the rise of China and Asian disruptors like Alibaba, Huawei and Samsung, the innovation in Asia is massive.
Asia will become a trendsetter: The number of global iconic brands coming from Asian will continue to increase significantly. With Hallyu showing no signs of slowing across Asia and the western world, the export of "Asian identity" and the Asian "way of life" will continue to grow
The power and influence of family-owned companies will thrive: More than 70% of the world's GDP are generated by family-owned companies and they provide 60% of global employment. The majority of the powerful Asian companies are family-owned. With a strong entrepreneurial drive and an emerging next generation leadership, it will be important for family businesses to get strategy right to sustain longevity and impact across generations.
In addition, by 2025, family-owned businesses may account for as much as 40% of the world's large enterprises, from a low of roughly 15% in 2010, according to McKinsey & Company.
5 key learnings for European companies
Martin Roll shared 5 key takeaways that European companies can learn from Asian companies:
Create a shared board view of the brand and impact of purpose
Monitor and learn from Asian best-in-class companies and institutions
Create a lean and resilient strategy
Innovate, be agile and adapt fast
Ensure a strong culture for excellent delivery focus
Building successful global brands is – and will be – critical for the rapidly increasing number of Asian champions on the global stage. The question is no longer how quickly Asia will rise. It is how Asia will lead.
Insights links
About the author: Martin Roll – Business & Brand Strategist
Download presentation: Winning in The New World – Journey from Europe to Asia
Read more about the event: Thinkers50 European Business Forum 2019
Read more about Martin Roll's global journey: A Global Journey with a Difference
Read more about Asian Brand Strategy: Asian Brand Strategy: A New Paradigm for Boardrooms
Read more: Insights & Articles